AUSTRALIA'S fast bowlers, so ferocious last summer and so full of bravado leading into this one, fell flat at the Gabba on Friday, letting two of the world's most formidable batsmen off the hook.
Hashim Amla and Jacques Kallis were in an unforgiving mood as they led South Africa to 2-255 at stumps on day one, in front of a record crowd for a non-Ashes Test in Brisbane.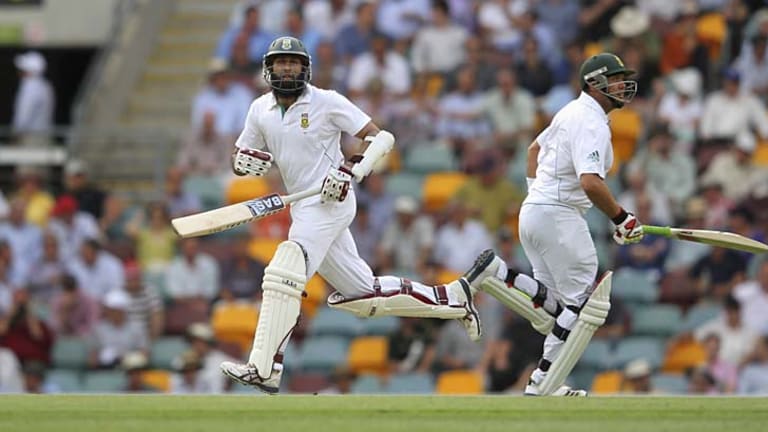 In this heavyweight battle to decide the No.1 ranking, both captains said the successful team would be the one that seized the key moments. The Australians failed to grasp two golden chances in the last session, when fast bowler Peter Siddle let Kallis, on 43, off the hook with a front-foot no-ball, then could not hold onto a caught-and-bowled chance from Amla, then on 74.
The first stroke of luck for the home side came when South Africa's No.7 batsman, J.P. Duminy, injured his ankle during a warm-down game of rugby and was carted from the field. But Australia's young spearhead James Pattinson, the only paceman to taste success on day one, summed up the mood in the Australian dressing room when he said: ''I saw him getting carried off but I'm just worried about getting Amla and Kallis out.''
Pattinson said the unusually tame Gabba pitch was no excuse for the Australians' lacklustre bowling effort, which contrasted sharply with their hostile brand of fast, full-swing bowling to destroy India's revered batting order last summer.
''We can make excuses but we lacked a bit of penetration and a bit of consistency,'' Pattinson said. ''When the wicket is not playing how you want it, with a bit of movement and a bit of pace, you just want to dry up as much as you can, and we didn't do that.
''We were definitely too short early on and that can happen coming into big games, with plenty of nerves flying around. You want to try get the ball in the right areas … There was a bit of luck, Sidds's no-ball and a dropped catch, and few early on with the DRS [decision review system] - it could have been a different day. But in the end we just lacked that bit of consistency to put them under pressure.''
It is hard to recall a more dispiriting start to a home summer than the one inflicted by Amla (90 not out) and Kallis (84 not out) at a ground on which Australia have not been beaten for almost a quarter of a century. Even with Duminy under an injury cloud, the South Africans boast enviable batting depth, with A.B. de Villiers and Jacques Rudolph to come.
Pattinson said he had not encountered a Gabba pitch offering so little seam movement on the first day. ''I don't think there were any catches go to slip and it was a very slow wicket … As class players we've got to overcome that and have a back-up plan.''
Ben Hilfenhaus looked nowhere as dangerous as he did last summer, despite his respectable figures, and Pattinson's short and fiery spell to capture the wicket of South African captain Graeme Smith in the morning was a rare highlight.
Smith was initially given not out by umpire Billy Bowden despite being thumped on the back leg in front of off stump, but the verdict was overturned under the DRS.
The Australians had wasted a DRS challenge against Smith for a leg-side caught behind, when the adrenalin was pumping and the ball had brushed his pad, and used up the remaining challenge in the 33rd over when opener Alviro Petersen was struck on the toe by a Hilfenhaus inswinging yorker.
Australia preferred off-spinner Nathan Lyon to left-arm paceman Mitchell Starc in the final XI, despite Lyon's ordinary early-season domestic form and Starc's liking of the Gabba. The spinner created an opening at 2-119 when he enticed Petersen into driving a catch to mid-on for 64. However, Amla and Kallis both hit him for six.
Siddle looked down on pace, and when he did create chances, they went begging. The worst moment was in the 62nd over, when Amla scooped back a slower ball to his left, and Siddle could not hang on.
''You don't like giving class batsmen like that a chance,'' Pattinson said. ''Against good batsmen they don't come very often. Come tomorrow, I'm sure if those chances come we'll snap 'em up.''
Chloe Saltau is the chief cricket writer at The Age, regularly covering international cricket and providing news, comment and analysis on international cricket. She joined The Age as a trainee in 1998 and spent several years writing for general news (chiefly as a social policy reporter covering welfare and family issues) before moving to sport.
Morning & Afternoon Newsletter
Delivered Mon–Fri.