''I'm not looking any further forward than the Test series against South Africa because I know if I don't nail that it's a waste of time anyway.''
- Ricky Ponting, July 21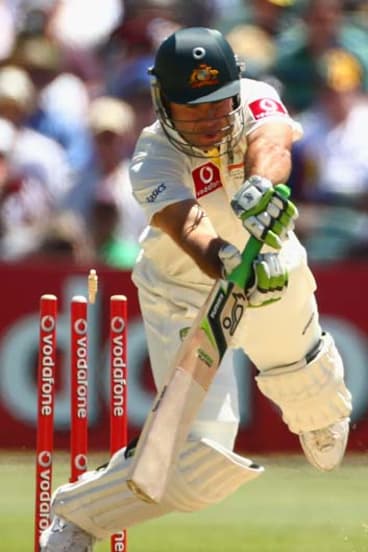 By his own admission, time is running out for Ricky Ponting to shore up his place for next year's Ashes tour, much less fulfil his stated ambition of finishing his career at home against England next summer.
Rather than nailing the Test series against South Africa, the former skipper has been knocked on to all fours. Ponting's dismissal on the first morning of the Adelaide Test was an undignified look for an ageing champion, at the Australian venue where he has been at his most imperious.
Ponting feels like part of the furniture at Adelaide Oval, even in its half-renovated state, because of his 1727 Test runs there - more than any batsman at a single Australian venue - and because of his wonder years at the old cricket academy.
He arrived to face fellow 37-year-old Jacques Kallis at 2-44, keen to renew the love affair and erase the memory of a duck in the first Test at the Gabba.
His first stroke, an effortless clip to the square leg boundary, held the promise of doing both, but the feeling was shortlived. Two balls later, Ponting was comprehensively defeated.
Kallis produced a perfect outswinger, angled in and then shaping away. It was a beautiful ball, but Ponting played inside it, and fell forwards onto the pitch as his stumps rattled.
If Ponting's own off-season prediction is correct, then he needs to recapture the form of his Indian summer, which climaxed with 221 in Adelaide last January, soon or the selectors will be forced to make other plans for the Ashes.
And he has to do it against a South African attack that has kept him under pressure over six innings dating back to last year's Cape Town Test, with scores of 8, 0, 0, 62, 0 and four. Sri Lanka, Australia's next opponent, present a less daunting task.
Since the celebrations of that last Adelaide Test against India, Ponting has passed 50 once, in the third Test in the West Indies in April, and been part of an Australian top order that can't shake its habit of being three for not many.
The Australians were 3-55 when Ponting departed on Thursday, and 3-40 in Brisbane. Rob Quiney featured in both collapses, his eight-ball duck making him the man likely to make way for Shane Watson at No. 3 in Perth. Having hooked happily on debut, Quiney was much more restrained here, and the first ball he hit was edged to slip.
In the first Test, Ed Cowan staged the counterattack with Michael Clarke, before Mike Hussey joined in the party. The only difference this time was that it was David Warner, rather than Cowan, who stepped in to the breach with his unstoppable captain, and shredded the South African attack.
Chloe Saltau is the chief cricket writer at The Age, regularly covering international cricket and providing news, comment and analysis on international cricket. She joined The Age as a trainee in 1998 and spent several years writing for general news (chiefly as a social policy reporter covering welfare and family issues) before moving to sport.
Morning & Afternoon Newsletter
Delivered Mon–Fri.