Lauren Cheatle lives just down the road from the Bradman Museum in Bowral, her father played first-class cricket in England and she became the youngest player ever included in a NSW Breakers squad. But the most remarkable cricketing fact about the 17-year-old pace tyro may be the uncanny likeness of her bowling action to that of men's team spearhead Mitchell Starc.
Cheatle made her international debut in the second match of the Southern Stars' three-match T20 series against India late last month and after a whirlwind summer, which included being part of the victorious Sydney Thunder WBBL side, had to text her friend to double check when school was back in. There were pats on the back at Chevalier College – even teachers coming up to her for a congratulatory handshake – but of all the compliments she has received, the most unexpected were those comparing her style of delivery to another handy left arm quick.
"When I've bowled I've had people come up and say 'Oh, your action's just like Mitchell Starc'. I would just sort of think 'Oh, that's a really nice comment', but I'd never seen us bowl side by side," Cheatle says.
"Then, to see it, just seeing how similar our actions were, I was really shocked. I want to be as good a bowler as Mitchell Starc but I've never tried to model my action on his. So I was really surprised."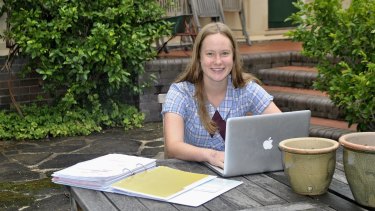 A video comparing the pair was posted on cricket.com.au after commentators noticed the similarity during her debut match.
Like Starc (who is engaged to Southern Stars player Alyssa Healy) expectations are rising for Cheatle, who has also been compared to teammate Ellyse Perry for her versatile athletic skills and ability to bowl fast.
Though she's never been timed, her speed has been estimated at about 110km/h, not far short of the speed of Perry and 20-year-old Southern Stars opening bowler Holly Ferling.
"I'm still trying to get some muscle on me and hopefully I can bowl faster in the future," she says.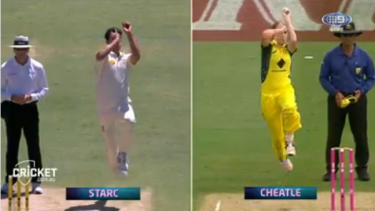 Time – and timing – are on her side. Cheatle acknowledges her luck coming into the elite ranks just as opportunities have grown significantly for women cricketers.
"Coming into the first season of the WBBL I didn't really know what to expect," she says. "But the amount of support we had, to have those televised games, it was really great and it's had a great reaction.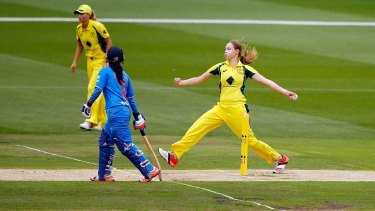 "It's probably the perfect time to come into women's cricket and women's sport in general. It's just starting to come to the forefront and it's important that we're getting an adequate amount of money. It's becoming a professional sport and it's something I'd love to play professionally once I'm finished with school."
In the meantime, Cheatle wants to keep learning from the likes of Southern Stars legend Alex Blackwell, who she says has been "a great support" at the Breakers and Thunder, as well as national team captain Meg Lanning. The looming tour to New Zealand in February and India in March for the World Twenty20 are attractive, but Cheatle says she is happy to sit tight.
"I've been in the routine of flying in and flying out every few days, playing cricket in different places. I came back and had to text my friend because I actually didn't know when school was going back, I thought it was a week later.
"It's just been nice to see everyone again. I'm just going to try to get through this year at the moment. There are a couple of cricket tours coming up. But I've got no expectations."