ADELAIDE Oval on Monday was like a Murray River camping ground in mid-summer. The colours were washed out, it was breathlessly hot, people were scattered along the banks, mostly in the shade. There was little movement and only a yelp every now and then to interrupt the stillness. The match, like the river, flowed along, but imperceptibly.
Of runs and wickets, the staples of a cricket match, little was seen. Yet that current, witnessed by those happy pseudo-campers, bore Australia and South Africa to a sublime finish to an extraordinary Test match. It came down to two men, opposed pugilistically. One was Faf du Plessis, who on debut for South Africa batted through the entire last day, made 110 not out and despite cramp in both legs and surely also in his nervous system secured for South Africa a draw as heroic as any victory. Faf is a name now.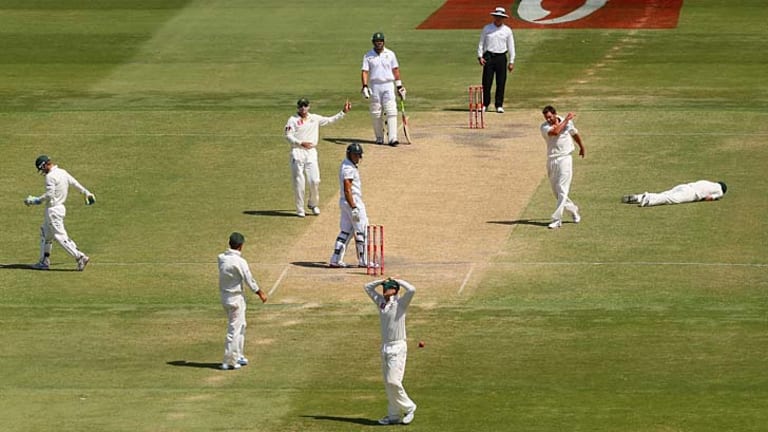 For Australia, Peter Siddle bowled out his heart and most of his legs, and though scarcely able to put one leaden foot in front of the other by day's end, almost willed back for Australia the victory that had drifted around the bend and out of sight. How he must have itched for even one ball at No. 11 Imran Tahir; how Tahir must have prayed. Between Siddle and Du Plessis when stumps were drawn, a mere handshake seemed not nearly settlement enough.
Immediately, the gathering up began, for on Friday they meet again in Perth, still to resolve which of them is No. 1. Australia must contend with a potential butterfly effect, for each bowler had to toil proportionately harder for this depleted attack in the absence of James Pattinson, and all were palpably sore at its end, and that assuredly will become a factor.
Besides Ricky Ponting's future, the attrition rate among bowlers is the most burning issue right now.
Before then, though, salute South Africa. This was a triumph of temperament over all other forces, and South Africa's temperament is both famously strong and infamously brittle. Du Plessis, after 78 in his first Test innings, batted from just after 4pm on Sunday to the end of the match, standing blank-faced, square-jawed, unswerving sentry, though his country's cause was apparently lost.
In one of several twists that have inflected fatefully on this series, he was playing only because of injury to JP Duminy. His is one of those South African names that looks almost like a misspelling, but there is nothing awry with his batting. Like England's Alastair Cook and his apparent absence of sweat glands, it was not that his temperament was unflappable, but that he had no apparent temperament to flap. Six encircling fieldsmen did not discern one. He batted as if in a trance; not even when his opus was complete did he fully snap out of it.
For five resolute hours he was partnered by his schooldays contemporary, AB de Villiers, a naturally fluent batsman who fought all his better instincts to play the longest Test innings without a boundary. His most assertive act was his arms-raised-high leave. He was the picnic cricketer who somehow always is in.
At last Siddle, red as sunburn, forced the new ball so much through the de Villiers' gate as between two palings. This served only to introduce Jacques Kallis, a two-in-one cricketer who hobbled away from the bowling crease on the first morning of this match because of a hamstring twang, but who for the second time in the match stalled Australia, this time for two-and-a-half hours.
Kallis projected an even more convincing image than de Villiers of cricketer as Zen. He moved about as much as a patient man in a long queue, circling a little on the spot from time to time, occasionally swatting a fly. Even when injured, he makes batting look inevitable. But at last, he nudged Nathan Lyon to short leg, and limped off.
Siddle rejoined the fray, having Dale Steyn caught at mid-wicket from a full toss and yorking Rory Kleinveldt. On the previously sleepy banks and tiers, there was uproar and beseeching. But to spin, swing and din, du Plessis was impervious; he might have been batting with an iPod.
For the picky, there were nits in Australia's effort. Too eager, it squandered its last referral early, a mistake in a match of many instances of recourse to this flawed protocol. Captain Michael Clarke might have tried Dave Warner's cover versions of Shane Warne earlier, if only to disrupt the rhythms. With luck, Australia might have held three half-chances. Without DRS, it would have had du Plessis early; he was rightly reprieved three times.
Australia was tireless and relentless in all it did, but at times, the effect was of a team trying to drive a hard bargain with an implacable dealer when it might have been better served trying to buy a wicket. The most resolute batsmen have their vanities, after all. In truth, Clarke tried every arrangement of smoke and mirrors, and managed to make himself appear the most threatening bowler
But on a more placid pitch than might have been expected - in Test cricket's cloak and dagger, day five pitches are not supposed to be this staunchly true - with no more breeze than occasionally enough to tug at a shirt, in the absence of Pattinson, against class batsman not obliged to take a risk - in fact tasked to take none - this became unequal battle. It came down to this: Australia's injured bowler could not bowl, but South Africa's injured bowler could bat, and bat, and bat. Neither will play the next Test.
This was a Test match of more humours than almost any in memory. In the last session on day one, Australia scored 202. In the last session on day four, South Africa scored 37. Day five became a staring match, each side watching for a sign of wilting and blinking in the other. Runs were taken and balls chased for form's sake; mostly, they were of no consequence, though at length they became precious to the admirable du Plessis. Not even at 100 did he dare to bow to the felicitations, for it was still not enough. Truthfully, the day consisted wholly of an alert for six wickets. South Africa's triumph was that only four fell, and not du Plessis'.