Injured paceman Mitchell Starc will miss the second one-day international against Sri Lanka as Brett Lee suggests some fast bowlers aren't earning the right to play for Australia.
Starc's future in the five-match series is uncertain after suffering calf soreness in Australia's 107-run thumping of the visitors in Melbourne on Friday.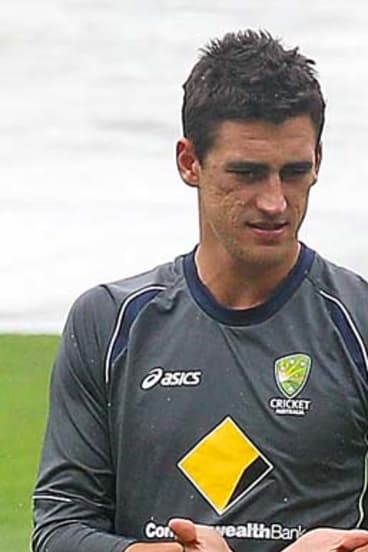 South Australia's 21-year-old quick Kane Richardson has been summoned but is expected to be 12th man for Sunday's one-dayer in Adelaide with Queenslander Ben Cutting likely to debut.
Starc's absence came as Australia's revolving fast bowling door attracted criticism from Lee, who says the rotation policy is confusing and based on speculation.
''I believe, and I'm a bit old school, that you've got to earn your right to play for Australia,'' Lee told reporters in Melbourne on Saturday.
Lee said nobody, including selectors, knew what Australia's best side was.
''You don't want to breed a culture where you're looking over your shoulder every time - who's out this week? Who's getting rested? Who's coming in because there are four or five guys waiting to take my spot?,'' he said.
''On the one hand I think it's great that everybody's getting an opportunity.
''But also, if I'm a paying member of the public, I want to see Australia's number one side.
''What is that side? I don't know, no one knows.''
Lee said relying on sports science as the basis for a rotation policy was flawed.
''It's all speculation, there is no proven stats as to a certain amount of balls you can bowl,'' he said.
''... People are getting rested on what if, what if someone gets injured.
''I just don't reckon you can do that, you can't have a what if sort of policy.''
Richardson was expecting to take a two-week break from cricket after the Adelaide Strikers bowed out of the Big Bash League finals race.
Instead, he was shocked to be drawn into the national squad late on Friday night.
''A few blokes have been joking about it but to be honest I was looking forward to a couple of weeks off ... but I was really happy to get the call,'' Richardson told reporters in Adelaide.
Australia will again rest Michael Clarke, David Warner and Matthew Wade in Adelaide on Sunday.
But instead of resting at home, Warner was in Melbourne on Saturday for a promotional appearance with Australian tennis star Samantha Stosur, and he admitted being told to take a break was hard to accept.
''It was a little bit tough to have a break at this stage but for me mentally it was to get freshened up and I'm doing that,'' he said.
AAP
Morning & Afternoon Newsletter
Delivered Mon–Fri.