In Waiting for Godot, Samuel Beckett wrote that men are always blaming their boots for the faults of their feet. In Waiting for Watto, which finished its current season at the Oval on Wednesday, Shane Watson finally took responsibility for his footwork.
But what a wait it had been. When he reached his third century in eight years of Test cricket, Watson bowed his head and humbly raised his arms, in apology as much as acceptance. The ground announcer read out that it had taken 114 balls and 172 minutes. Such was the batsman's weary pose, he might have added: 'And 47 Test innings. And three years.' And an aeon of missed opportunities.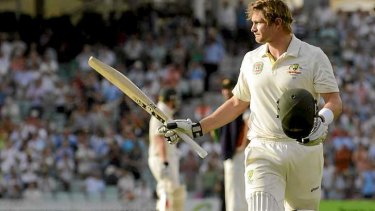 A summary of Watson's strokeplay reveals little out of the ordinary. His pull shots were savage, his driving crisp. He seldom played a ball with anything other than the meaty centre of his bat. But that can be said of any Watson
innings. A Watson 30, of which we have seen many, contains more crashing boundaries than a Chris Rogers century.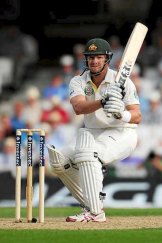 The difference with this innings was that, like a Fidel Castro speech, it did not stop on the hour. Its true story is told in what did not happen. He did not fall lbw. The first late James Anderson inswinger, on the eighth ball Watson faced, caught the inside edge on the way through to that looming front pad. On his 13th ball, Watson missed the inswinger and was hit in front. The umpire gave him not out. If it had gone to DRS, the replay showed that an unfavourable onfield decision would have been upheld – as has happened repeatedly to Watson through the series.
Little things counted for a lot. When Watson flicked down the leg side, he missed, rather than nicking as at Chester-le-Street. When he was set up for the inswinger, he got his bat down in time. His head moved forward down the wicket, rather than across towards cover. He kept the good ones out. Placid defensive shots and non-occurrences defined this innings.
Then there was the assistance given by England's venturesome selections.
Rather than replacing Tim Bresnan with the next-best seamer in Chris Tremlett or Stephen Finn, England took a leaf out of Australia's book and went for a domino effect. They chose two debutants, Simon Kerrigan as a second spinner. To cover for that risk, a bowling all-rounder, Chris Woakes was brought in as well. This had a major influence on Watson's prospects, because when Anderson and Stuart Broad were finishing their first spells, and Watson was entering the customary danger period, he was gifted some park-quality bowling. Woakes came on when Watson was 12. While Rogers was painfully invigilating against Graeme Swann at the other end, Watson peeled off 55 runs from 27 balls from Woakes and then Kerrigan, who replaced Swann. Watson was able to sail through the nervous 30s, 40s and 50s in a matter of minutes. At lunch he was 80, well on his way.
From that point, the keynote of Watson's innings remained the absences.
No wafty off drives. No front-foot late cuts. No turning the straight ball behind square leg. None of the brain snaps that have stranded him in the nervous 90s.
He said later that having his brain assailed from the outside might have knocked some sense into him during that period. A searing Broad bouncer caught him behind his left ear on 91; painkillers were required, and he went through his 90s as if under sedation.
For much of the afternoon, Watson had an eternal look about him. He gave one chance, on 104, when Alastair Cook dropped him at slip. Otherwise he proceeded with the stateliness of a grande dame. One of the most impressive features of his innings was his ability to turn Swann away in front of square leg to jog away from the striker's end. The gluey trudge, which in other circumstances can seem so maudlin, now had an air of permanent occupation.
When he ran down the wicket for a single and Anderson blocked him, Watson barrelled into the bowler, forcing a complaint to the umpire. It was not the day to get in Watson's way.
Just as Watson set himself for stumps, he was well caught by Kevin Pietersen in the leg-side boundary mousetrap, and his innings came to an end on 176. The feeling of having done this in the fifth Test rather than earlier, he admitted, was bittersweet. He had been searching his soul, and this was what he came up with. His wait, and everybody's, was over. It might have been too late, but it wasn't too little.
Malcolm Knox is a sports columnist for The Sydney Morning Herald.