ANALYSIS
LIFE after Michael Hussey is not going swimmingly for Australia.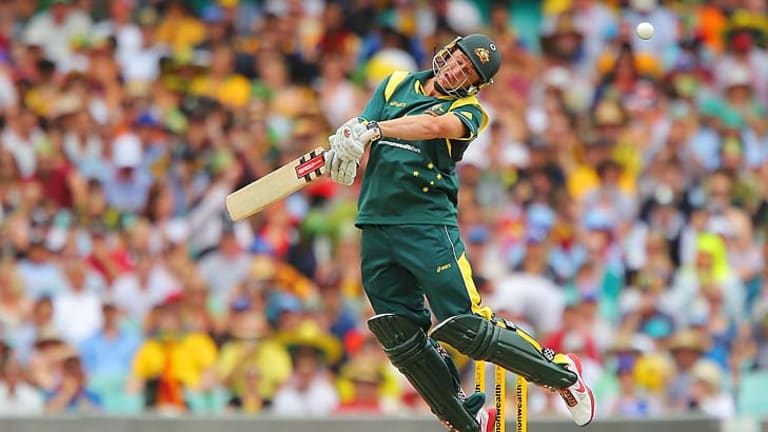 The ever-dependable left-hander was never going to be easy to replace but when selectors opted, controversially, to activate his international retirement immediately and leave him out of this one-day series, they might have hoped his absence would not be felt so dearly.
A third successive below-par score - the Australians were stopped well short of 100 at the Gabba last Friday and only exceeded 200 on Sunday thanks to another brilliant rescue effort from Mitchell Starc - has made the decision to deny the veteran a farewell limited-overs road tour look very dodgy.
The most concerning issue, though, is not a few average or abysmal totals in a one-day series that will be forgotten soon after its final ball is bowled. The problem is that Australia is off to India in 17 days and an obvious successor to Hussey in the middle order has not emerged.
Let's consider the contenders. Usman Khawaja, George Bailey and David Hussey. Shifted out of the one-day side after the first match against Sri Lanka in Melbourne, Khawaja has, simply by not playing since, raced to the top of the queue. He was out cheaply on Sunday in the Brisbane grade cricket Twenty20 final but he will prefer to have made that exit in front of dozens rather than a huge television audience.
Bailey and Hussey began the series superbly at the MCG but since starring in game one have scored only 80 runs between them in three innings each. Hardly the statement either wanted to make as they pushed desperately for that wide-open Test No. 6 position.
On Sunday at the SCG Hussey edged a fast and formidable Lasith Malinga to Lahiru Thirimanne at first slip for one. After an unremarkable start to the Sheffield Shield season - he made only 120 runs at an average of 17.4 in five matches before the break for the Big Bash League - the most kind thing that can be said about the 35-year-old's Test chances are that he can bowl decent off breaks, an attribute that may just be useful for Australia over four Tests from Chennai to Delhi.
Bailey, meanwhile, scooped an innocuous Rangana Herath ball straight down the throat of Kushal Perera at mid-on for 22, having earlier survived an outswinging onslaught from Malinga.
The national Twenty20 captain, the Tasmanian is a favourite of selectors and is likely to gain a start on the Indian tour, at the least as the reserve batsman. But aside from his 89 in Melbourne in the first ODI Bailey does not have an overly impressive CV from the summer either. In four-day cricket he has made 169 runs at 28.16.
Khawaja, almost by process of elimination, is the most qualified of the candidates on present form but, due to his shifting out of the one-day team after only one game, has had to resort to playing club cricket in Queensland. A standby batsman in two Tests this summer, his 438 shield runs at 39.81 are not out of this world but stack up well against his rivals. He also was not in bad touch in an ordinary team, Sydney Thunder, in the BBL, rolling out 206 runs at 41.
Another fringe contender is Tasmania's Alex Doolan but his unbeaten 161 against the South Africans in Sydney seems, thanks to the BBL interruption in the shield, a fair way off in the rear-view mirror.
Then there is all-rounder Glenn Maxwell, but he has not staked his claim as a batsman - or for that matter as a bowler - in this series.
As improbable as it sounds Australia could do worse, as it stands, to send Brad Haddin away as a second wicketkeeper and pick both him and Matthew Wade. He is the only batsman to score more than one century in the shield this season.
Whatever the case, Australia needs the next Michael Hussey, if there is one, to stand up - and quickly.

Chris Barrett is a Sports Writer with The Sydney Morning Herald.
Morning & Afternoon Newsletter
Delivered Mon–Fri.