VICE-CAPTAIN Shane Watson is set to move down a spot in the Test batting order in the wake of Ricky Ponting's retirement, leaving Australia with an inexperienced top three with as few as 24 caps between them.
Australia coach Mickey Arthur has indicated that the all-rounder will be shifted to Ponting's former station at No.4 for next week's first Test against Sri Lanka in Hobart, with the new addition to the order - Phillip Hughes and Rob Quiney are considered the leading contenders - to slot in at first drop.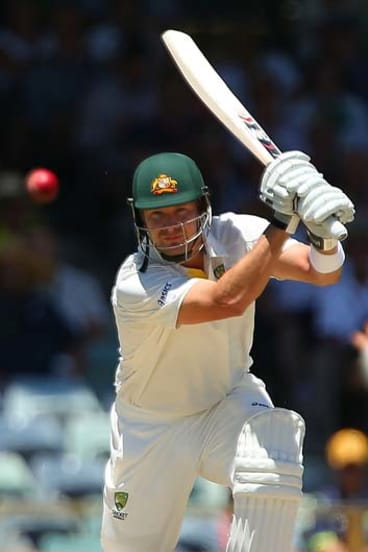 Arthur is a noted fan of Hughes, who is topping the Sheffield Shield run tally for the season with South Australia. National selector, John Inverarity, recently raised the possibility of an Australian line-up in the post-Ponting era, with the 24-year-old Hughes at No.3 and Watson at No.4.
''Without wanting to name names … it will probably be a guy who will come in and bat three and possibly a move for Watto at four,'' Arthur said in Perth, where Australia were beaten by 309 runs by South Africa on Monday to lose the series 1-0.
''It just looks right and gives us a bit of stability. We've got in our minds who we think the guy is, but we still need to discuss that as a selection panel and then sit down in Hobart next Monday when we arrive there and make a decision on what our preferred batting order is going to be.''
The decision to nudge Watson down the list would go against calls for captain Michael Clarke, the world's best batsman this year, to promote himself up the order. There are also concerns about Watson, a new-ball specialist, heading further down the order when most of his success as a Test player has been when he opens the innings.
Another contender has been Usman Khawaja, but even though he is third on the Shield runs tally with his new state, Queensland, selectors have expressed reservations about his attitude, criticising his running between the wickets and his fielding. They've demanded he improve in those areas before adding to his six Tests.
Quiney made a good impression on team hierarchy in his two Tests in Brisbane and Adelaide. He made only nine runs in three innings filling in for an injured Watson but selectors may want to give the Victorian another chance. The only argument against Hughes is that selectors have previously said they wanted him to put together a full summer of heavy domestic run-scoring before getting another Test opportunity.
Arthur said the inconsistency of the top order had to be addressed. While openers David Warner and Ed Cowan made significant scores on their own against South Africa they did not do so as a pair, and during the series Australia only once passed 100 before the fall of the third wicket.
Whatever the case, moving Watson leaves a hollow of experience in the top order. If Quiney rejoins Warner and Cowan for Hobart, the top three will have only 24 Test appearances between them.
Hughes' selection would bump that up to 39 but he would be on his third life as a Test batsman and has not batted at No.3 in Tests before.
''We know that we're really well covered at five and six,'' Arthur said.
''We just need one, two, three and four to be giving us a really good platform, I guess, and that's something we'll have a look at.
''I'm very comfortable, though, that those two [Warner and Cowan] have it in them to give us that consistency at the top of the order and individually they've shown it again this series against probably the best bowling attack in the world.''

Chris Barrett is a Sports Writer with The Sydney Morning Herald.
Morning & Afternoon Newsletter
Delivered Mon–Fri.