NINE years after his Test farewell at the SCG, Steve Waugh has a fair idea of what lies ahead for Michael Hussey in his last hurrah for Australia.
''He's going to be very nervous, and when you walk out to bat knowing it might be your last time ever for Australia, a lot of emotions go through your head,'' Waugh said. ''What I tried to do was get out in the middle as quickly as I could so I didn't take too much of it in, and it didn't affect me. I think for him, he should just enjoy it. He's had a great career, so he should really celebrate this Test.''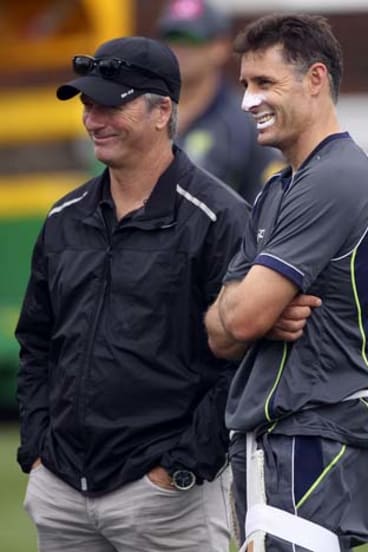 Hussey, 37, will draw a curtain on his eight-year Test career after the third Test against Sri Lanka. He is still thriving with the bat, averaging 79.16 this summer, and is a vital part of the fledgling Australian order. The constant travel schedule of an international cricketer, particularly one who plays all three formats, eventually wore Hussey down but Waugh - involved at the SCG Test in a mentoring capacity - said the veteran left-hander should be proud to quit at the top of his game.
''I had a quick chat to him. I think he knows it's the right time for him and his family, which is the most important thing,'' said Waugh, who played the last of his 168 Tests in Sydney against India in 2004. ''The great thing about Huss is, the way he's playing, he's going to go into this Test full of confidence. He's batting as well as anyone in world cricket. If you're going to retire, that's the time when you want to retire, when you're playing well and confident; and with the team 2-0 up in the series, he can really relax and enjoy himself.
''It's hard to give advice. I think if you build it up too much in your own mind, then it becomes almost unplayable for you. I think at the end of it, when you sit down, that's when it all dawns on you.
''When you walk out of that gate for the last time with your kit, and you know you're not going to wear the baggy green again, it's a mixture of emotions. It's sort of celebrating the fact you're on the next phase of your life but disappointed in some ways you're never going to represent Australia again. But life has got to move on and that's the nature of cricket.''
Hussey said on Wednesday he was looking forward to life beyond the gruelling schedule demanded by international cricket, as well as the absence of nervous tension that grips him before each innings. He intends to play the limited-overs series against Sri Lanka and the West Indies, the rest of the domestic season with Western Australia and the Indian Premier League. He will decide whether to carry on, outside the international scene, after that.
''I just want to go out there and enjoy it really. It was a tough decision but one I feel very comfortable with,'' Hussey told Sky Sports Radio. ''I feel very calm and relaxed about it, and looking forward to a lot less stress and pain and time away. Pretty much every time you go out to bat you've got that horrible feeling in your stomach. And it probably gets worse as you get older.
''I'm probably just as nervous now at the end of my career as I was at the start. It's just a horrible feeling but, once you get out there and you get running around, it sort of goes away reasonably quickly.''
The other, more trivial, issue confronting Hussey is who will take over his duties as leader of the team song. David Warner was a strong candidate, but he denied it would be him and said spinner Nathan Lyon, a close colleague of Hussey's, had also told teammates he wasn't being given the honour.
Hussey refused to let out his secret but it was clear he was looking for someone just like him. ''When I was thinking about who should take over there is the easy [criteria]: who is going to be in the team, who is going to be maybe playing all forms of the game. There is all those sorts of things, but I didn't really want to go down that path,'' he said.
''I wanted to go down the path of who plays the game for the right reasons … I love the team, I love the great honour of representing Australia and I love the simple things like sitting in the dressing room afterwards and relaxing and enjoying each other's company. They're the sort of characteristics I'm looking for.''

Chris Barrett is a Sports Writer with The Sydney Morning Herald.
Morning & Afternoon Newsletter
Delivered Mon–Fri.