A brand new venue, same old story.
The Australian batting line-up, perhaps more focused on the tourists arriving than those departing, again faltered. The latest collapse occurred at Metricon Stadium, against a South African side that have proven themselves far superior in the shortest versions of the game during their brief stay.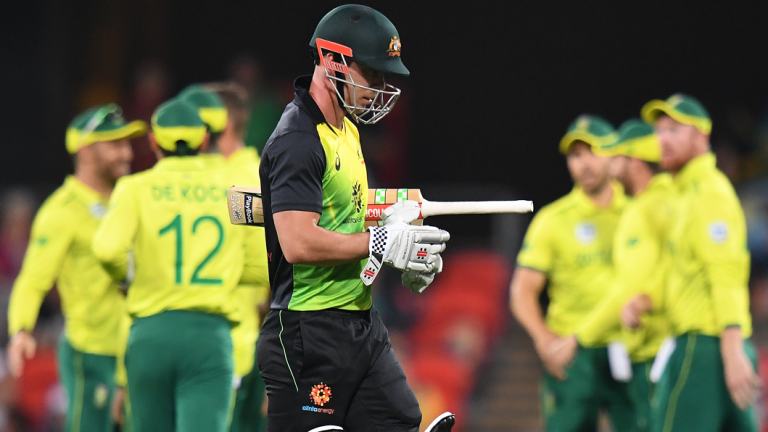 With the innings reduced to just 10 overs each due to rain, there was even less time for the batsmen to settle in. Much like the Schoolies flooding nearby Cavill Avenue, the Australians went too hard too early.
International cricket has been a long time coming to the Gold Coast, but the locals were forced to wait longer still. A tropical storm swept across Metricon Stadium, delaying the start of play and shaving 20 overs off the already abbreviated format. Save for the Jeff Horn-Anthony Mundine 'fight' at the same venue in a fortnight, they won't witness a shorter contest.
A chase of 108 proved beyond the locals. Given the restrictions, there was no time to dally. However, the nature of some of the dismissals was of concern. Captain Aaron Finch was bowled slogging, D'Arcy Short was out for a golden duck and Chris Lynne – promoted to the top of the order – was unable to convert his 14 into something more substantial.
Glenn Maxwell top-scored with 38. His was a handy contribution all round. The two overs he bowled went for just 14 runs and he took a gem in the outfield. He didn't get enough help.
The Aussies finished their dig on 7-87, falling 21 runs short. The result leaves the Australians with just a single one-day international victory against the Proteas before their first clash with the touring Indians, also in a T20 international, at the Gabba on Wednesday.
The showers meant the viewing audience, already limited to cricket lovers able to afford subscription television, shrunk further still. Perhaps it is a blessing given the performance from the locals.
Finch, on his 32nd birthday, won the toss and sent in the opposition. His quicks began the game with a litany of half-trackers. By the end of the first powerplay, reduced to just three overs, the South Africans had raced to 42. It took eight overs before an Australian bowler attempted a yorker. Astonishing.
The greasy conditions suggested it wouldn't be a night for the spinners, although the local slow men were the most effective. Maxwell and D'Arcy Short momentarily stemmed the flow of runs before the quicks returned to again test the middle of the new drop-in pitch.
Had it not been for a brilliant boundary catch from Maxwell to dismiss Faf du Plessis, the damage could have been worse still.
Adrian Proszenko is the Chief Rugby League Reporter for the Sydney Morning Herald.