Stephen Hodge shouldn't be stripped of the honour of having a Canberra cycling circuit named after him, former ACT chief minister Jon Stanhope says.
In the wake of a report into Lance Armstrong's systematic doping throughout his career, Hodge has admitted he too used performance enhancing drugs during his professional career.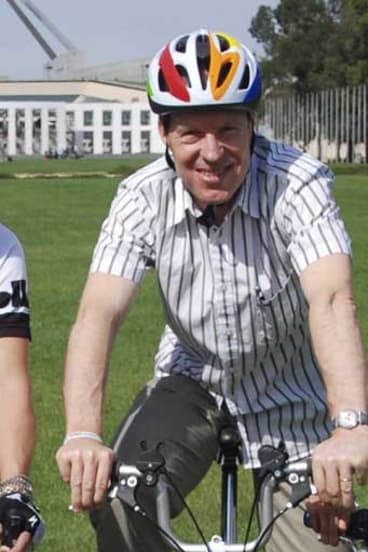 This morning ACTSport announced it had agreed to Hodge's request to have his name removed from its Hall of Fame.
A decision on whether a criterion circuit at Mt Stromlo Forest Park retains his name cannot be made until after the ACT election result is known.
However Mr Stanhope, in a letter to The Canberra Times, has said Hodge should retain that honour.
''Stephen, representing Canberra cyclists, was instrumental in convincing me of the need for a purpose built criterion circuit at Mt Stromlo Forest Park,'' Mr Stanhope wrote.
''He was the driving force that brought it to fruition. He was responsible, in the main, for its design.''
Describing Hodge as ''one of the nicest people I had ever met'', Mr Stanhope - now the administrator for the Indian Ocean territories of Christmas Island and Cocos (Keeling) Islands - said Hodge ''deserved the recognition for his part in its establishment''.
''Stephen himself has relinquished those things he now admits he did not deserve,'' Mr Stanhope wrote.
''I don't see what would be achieved by stripping him of the things that he does deserve.''
Hodge wrote a letter to the ACT Government earlier this week asking to be removed from the Hall of Fame following his admission that he used performance enhancing drugs during his career.
ACTSport released a statement this morning accepting Hodge's request.
Hodge admitted last Friday that he was part of the drug culture in cycling which has sent the sport into controversy with Lance Armstrong being stripped of his seven Tour de France titles.
ACTSport was already considering Hodge's place in the Hall of Fame before the six-time Tour de France competitor sent his letter.
However, Hodge's request made the committee's decision easier.
The criterium track at Mt Stromlo is named after Hodge, but a decision on whether it will be changed can't be made until the ACT election is decided.
Cycling ACT will meet on Monday to decide if they will continue to celebrate the Stephen Hodge Achievement Award.
Hodge has been one of the most recognisable figures in Canberra cycling for more two decades.
But his announcement that he used EPO to compete on the Tour de France rocked the Canberra cycling community.
By admitting his past mistakes and asking to be removed from the Hall of Fame, Hodge has tried to maintain some dignity while Armstrong continues to avoid the truth.
The ACTSport Hall of Fame has the biggest names in Canberra sport including Mal Meninga, David Campese, James Hird, Alex Jesaulenko and Michael Bevan..
Hodge was inducted in 2002.
But this week he said: "I believe that most ACT residents would agree with me that given my admission of use of performance-enhancing substances, it is inappropriate to be recognised in this way."