Iconic Canberra cycling figure Stephen Hodge has shocked the capital's tight-knit riding community with his drugs bombshell today when he admitted to taking performance enhancing drugs for six seasons to stay on his international team.
Hodge has resigned from his position as Cycling Australia vice president.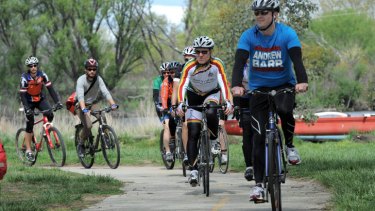 His revelation comes after Matt White stepped down from his position with Orica-Greenedge last week.
The Lance Armstrong drug scandal continues to grip the cycling world and Hodge confessed to using blood-boosting EPO from 1989 to his retirement in 1996.
The announcement shocked Canberrans.
Hodge is a an ACT Hall of Fame member and the criterium circuit at Mt Stromlo is named after him.
ACT Sport Minister Andrew Barr was reluctant to comment.
It is not known whether the government will change the name of the criterium track at Mt Stromlo, which is called the Stephen Hodge Criterium Cycling Circuit.
Hodge worked with the government in 2004 to design the 1200m track suitable for a wide range of competition.
Preparing for the ACT election tomorrow, Barr said: "Doping at all levels of sport is wrong, and I am disappointed in this news."
ACT Sport chief executive Mark Cartwright said there had been no discussion about Hodge's ACT Hall of Fame status, but conceded a discussion would take place.
"We have a lot of respect for what he has done on the bike and he has been a wonderful contributor to the sport," Cartwright said.
"I was shocked, it has only surfaced today. ACT Sport will need to consider this information, but now it's too early for us to make a sweeping statement."
He started Squadra H in Canberra - a program which offers services including cycling training, motivational and leadership presentations.
Hodge said: "I took performance enhancing drugs - a decision I am not proud of.
"I am sorry I did it. It was wrong. I apologise unreservedly to CA, my family, friends, colleagues and cycling fans."
Hodge has been a mentor for aspiring cyclists in Canberra for the past two decades.
Olympic track cyclist Daniel Ellis had not heard the news until contacted by The Canberra Times.
Ellis, who competed at the Beijing Olympics in the men's team sprint, won the 2004 Stephen Hodge Achievement Award and still has the trophy in his Adelaide home.
"The whole Lance Armstrong thing that's been disappointing because he's such an influential guy within cycling itself," Ellis said.
"For it to come back a lot closer to home with Stephen, it's just on a whole new level, on a personal level where I did know him quite well and looked up to all his results when he was racing and for this to come out, that's the biggest disappointment."
Ellis described Hodge as a "massive superstar and a "big idol".
"His personality towards myself off the bike was amazing, I don't think my outlook on him [as a person will change], but his success on the bike will change," Ellis said.
"Tactically he always had some very good points but obviously you have a second thought about the results that happened."
HODGE'S FULL LETTER:
Dear CA Board and CA members,
I am writing to tender my resignation as a Cycling Australia (CA) Director effective immediately.
Prior to the CA Board meeting on the 16 October 2012 I advised Graham Fredericks and Klaus Mueller that during a stage of my career as a professional cyclist I took performance enhancing drugs—a decision I am not proud of.
I am sorry I did it. It was wrong. I apologise unreservedly to CA, my family, friends, colleagues and cycling fans.
When I made Graham and Klaus aware of my situation I offered to resign. It was agreed that I would immediately stand aside from all CA Board duties in advance of submitting a formal resignation. At no point have I been involved in any CA Board meetings or discussions in relation to the termination of Matt White's contract.
During my time on the CA Board, I have shared CA's strong commitment to the fight against doping. I believe other cyclists should never have to face the same pressures I did during my professional career.
I would also like to believe that in my 13 years as a director of CA I have been able to make a valuable contribution in this regard, as well as helping to encourage the growth and strength of cycling as a sport in Australia.
I am proud to have been associated with this work and believe cycling has come a long way—and in fact has led the way in many instances.
It goes without saying that these are challenging times for cycling. But I feel more hopeful than ever for the future of a sport I love
It has been a privilege to serve on the Board and I am grateful for the time and opportunity of working with you all. I wish CA every success.
Stephen Hodge
Chris Dutton is the sports editor at The Canberra Times.