AT THE 2012 Tour de France, in the most photogenic setting of all, Mark Cavendish sped down the Champs-Elysees and became the most successful sprinter in the event's history.
Not every outing last season was so idyllic for the British superstar and reigning world champion, and on one of those imperfect days a 23-year-old Geelong born-and-bred Australian acted as spoiler.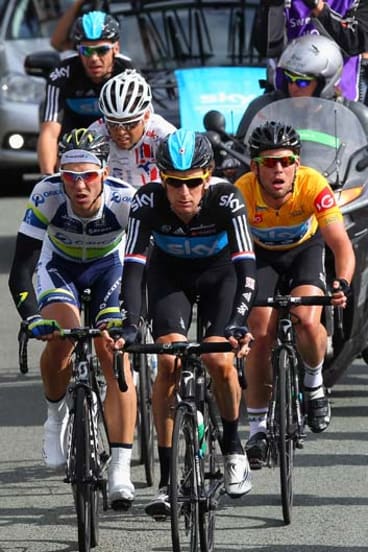 It wasn't quite Paris, but in the climax of stage two in September's Tour of Britain, Leigh Howard outsmarted the best in the business. In a close battle to the finish line Cavendish came off second best.
''It's certainly not anything in comparison to a grand tour stage win,'' says Howard, recalling with humility what was for him a major victory he could be forgiven for playing up.
''I opened up the sprint at the right time, 'Cav' made a slight error, and I had the speed.
''But the fact that I showed I have speed to beat the fastest guy in the world was certainly confidence-boosting for me. And it was a pretty big thing to win so close to his home town. We were only 10 or 15 kilometres away.''
Howard hadn't enjoyed such a significant win on the road since the first race of his professional career, in February 2010, when he beat Tom Boonen, Daniele Bennati and Tyler Farrar in the fourth stage of the Tour of Oman.
That debut victory explains why expectations have been so high for the Australian, who has taken his count of world titles on the track to three (omnium and two madisons) since he signed his first professional road contract with the now defunct HTC-Columbia in 2010.
But Howard, who favoured Orica-GreenEDGE over the other suitors for his signature last year, gives the impression no one has put more pressure on his progress than himself. He has been impatient.
''Certainly. Certainly,'' he says. ''I mean, I've definitely seen a lot of progress in my fitness out on the road - finishing tours and the mountain stages are becoming easier for me from a physical aspect. But to get the fine art of sprinting down pat, it's taking a bit longer than I would have hoped.''
Critical to his future success, Howard believes, is his ability to become more aggressive - a characteristic he knows resides within, but which isn't at all apparent when the mild-mannered cyclist is off the bike.
''I've been told I need to get a lot more mongrel in me, especially in the sprint finishes. I have moments of the mongrel; when it does come out of me … I just need to channel that more often in all the sprints that I do,'' Howard says, laughing while describing the alter ego.
''The mongrel has to come out in the last one or two kilometres, when you have corners coming up that you have to be in a certain position for and if you're not in that position - or you're one or two wheels either side of that position - you're not going to win.''
A major lure to Orica-GreenEDGE, which Howard is signed to until the end of this season, was sprint star-turned-coach Robbie McEwen. McEwen, Howard says, mastered the mongrel and has 12 Tour de France stage victories and three green Tour sprinters' jerseys to show for it.
Winning this year's Bay Cycling Classic - something Howard hasn't done but says he is eager to achieve - isn't going to make international headlines. But on the first day of racing for 2013, Howard says it's all about intent, and not just for today, but every day.
''In the back of your head it sort of comes out that it's just the first race; that there's no need to go in and crash for the sake of a Bay crit,'' he says.
''But that's something that I've got to try to learn to override - not think so much, and just go for it. Being scared in a sprint isn't a big issue for me. I guess it's just getting the brain to say 'stuff it, go for it'.''

Samantha Lane joined The Age in 2005 and has specialised in the coverage of Australian Rules football, cycling, Olympic sports and drugs in sport. A Quill award winner and part of the Fairfax team that won a Walkley award in 2014 for its coverage of the AFL's doping scandal, Sam has rich multimedia experience. She is part of the Seven network's Saturday night AFL television coverage and was previously a panellist on network Ten's Before the Game. Sam was The Age's Olympics reporter for the 2012 London Olympics, and covered the 2010 Delhi Commonwealth Games, 2008 Beijing Olympics and 2006 Melbourne Commonwealth Games for Fairfax. Her work has won awards from the Australian Sports Commission, the Victorian Institute of Sport, the AFL Players Association and the AFL Coaches Association.
Morning & Afternoon Newsletter
Delivered Mon–Fri.