Lisa Keeling was convinced she "would never ride again" after the Canberra cyclist was hit by a car, and still flinches every time she passes drivers at an intersection.
But three years after her crash on the Barton Highway, the late bloomer is eyeing national road series success as the 35-year-old launches her season in Adelaide on Thursday.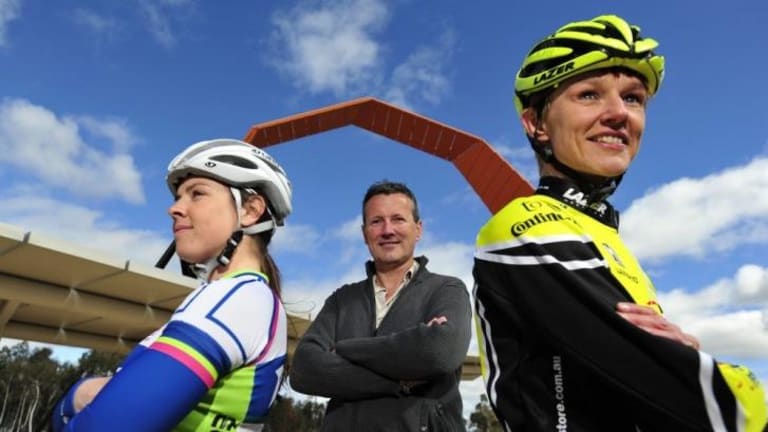 Keeling was hit by a car at the end of 2010, breaking her ankle, tearing ligaments and suffering nerve damage in her left leg.
The mother of two considered quitting the sport for good.
But Keeling had "the itch" to get back on her bike in 2011 and, in her comeback, claimed a clean sweep of stage wins in the women's B grade Tour of Bright.
Keeling has continued her outstanding form, finishing second at the Oceania titles in February.
She will start the four-stage Adelaide Tour on Thursday. The 85-kilometre opening race kicks off the national road series.
"I got hit by a car. At the time I said I would never ride again, my little boy [Rupert] was 10-months old and I thought, 'I'm not so sure about this'," Keeling said.
"I was going across the Wallaroo Road intersection, a car stopped to give way to me and then changed its mind when I was right in front. It wasn't the best moment. I saw it coming and thought, 'it won't hurt that much'.
"I was genuinely surprised when I was on the ground in pain. It took a while just to get my shoe back on after a broken ankle and I'm still missing some feeling in my leg.
"Mentally, I didn't know if I wanted to do it again. Whenever I see a car coming on my left, I still flinch and wonder if they've seen me."
"But I still had an itch that I had to scratch and my friends convinced me to get back on in 2011."
Keeling has been working with coach Jason Mahoney since deciding she wanted to ride again.
Keeling could push her limits and aim for world championships or an Olympic Games.
But juggling her career as a lawyer, children Rupert and Isabella, and her love of cycling, Keeling said her only focus was "some good results" and helping lift the profile of the sport.
"I'm in my mid 30s, I'm just focused on the domestic scene and developing cycling for future generations," Keeling said.
"I didn't want to commit to cycling if I wasn't 100 per cent in it. Crashing is a part of bike riding.
"My husband is really supportive. And it's good for the kids to see that mums can do whatever they want to do if they train and work hard.
"A lot of the kids at school think it's pretty cool when I come in after falling off and they can see my scabs. It makes me a celebrity amongst five-year olds."
Chris Dutton is a sports reporter at The Canberra Times.
Morning & Afternoon Newsletter
Delivered Mon–Fri.