Tears, champagne and "pure happiness" – Melissa Breen's excruciating "dark days" are finally over after her Olympic Games dream became a reality yesterday.
And far from being satisfied with simply getting selected in the Australian team, Breen has set herself a goal of making ?the 100 metres semi-finals in London on the world's biggest stage.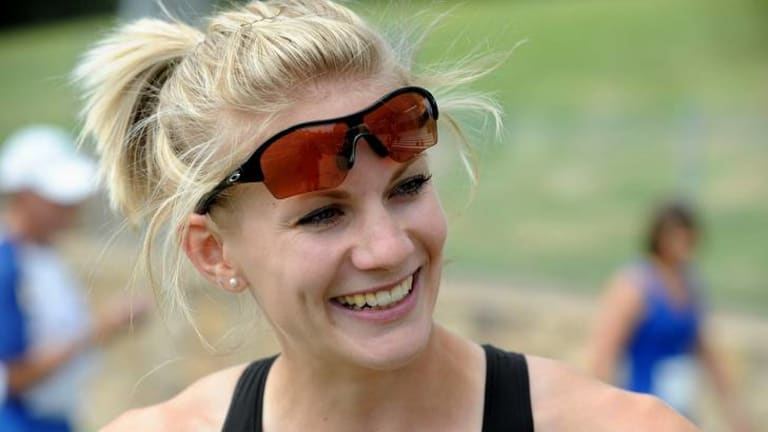 Canberra sprinter Breen was one of 54 athletes nominated by Athletics Australia to make the trip to London.
For the past month her future has been delicately poised on a knife's edge after missing an A-qualifying time by an agonising 0.002 seconds.
It left her Olympic hopes in the hands of officials, with Breen desperate to gain discretionary selection.
She lost count of how many tears were shed waiting for a fairytale phone call, but Breen's prayers were finally answered on Tuesday night.
The hardest part was keeping it a secret until given the all-clear from Athletics Australia to "shout it to the world" yesterday afternoon.
She will become the first Australian woman to compete in the 100m event at an Olympics since 2000.
"I've survived, I've trained really hard for it and this is what I've been thinking about for as long as I can remember, I've always wanted to be an Olympian," Breen said.
"Since when I was three years old I've wanted to go to the Olympics.
"Just talking about it now makes me emotional, I've wanted this forever and I'm lucky enough I get to do it this year.
"It's just pure happiness and a bit of relief.
"I told my parents [Mike and Bev] and [coach] Matty [Beckenham], but then I had to turn my phone off because I wanted to shout it to the world and scream from the top of my lungs."
Breen will join her training partners Lauren Boden and Brendan Cole as the Beckenham contingent in London.
But while Boden and Cole secured their selection with A-qualifier times, Breen has been patiently waiting for a life-changing decision which was out of her hands.
She put in a blistering effort in Japan in April and officials adjusted her time to 11.292s – just two one-thousandths of a second outside the qualifying time.
It left the 21-year-old inconsolable and in tears.
She made a decision with Beckenham to leave her Olympic hopes with the selectors to avoid burnout chasing the elusive time.
To help her through the toughest period of her career, Breen regularly visited a sports psychologist.
While she could distract herself at training, she let out all of her emotions with her psychologist.
"It helped me through the dark days . . . training was something I could control but there were some down days when I just wanted to scream," Breen said.
"I let it all out with the psychology sessions, it was about knowing it's OK to be upset sometimes.
"I'm only human, I can't be happy all the time but it's all worth it now."
Breen will race in the 100m and 4x100m relay events in London.
She celebrated with parents Mike and Bev with "champagne and chocolates" on Tuesday night.
She was so excited she woke up every few hours with a massive grin on her face and nothing could stop her smiling yesterday.
Being left out of the athletics squad would have been a cruel blow given how close Breen went to the qualifying mark.
But the uncertainty surrounding her selection left her in limbo.
"Everything is going through my head now – getting the uniform, competing in front of that many people, the opening ceremony . . . I just can't wait to live the next few months of my life.
"I'm never going to forget it, it's unreal. It's full-steam ahead to London and my goal is to make it to the semi-finals in the 100m and that would be unreal. I just can't wait.
"It's everything I've ever wanted."
Breen will leave Canberra next week to start a training block in Europe before realising her childhood dream at the Games.
Her training partners Boden and Cole will also head to Europe with coach Beckenham.
It caps off a stellar year for Breen, who is the reigning 100m and 200m national champion and she also won the women's Stawell Gift.
She represented Australia at the 2010 Commonwealth Games in Delhi, where she made the semi-finals.
THE FULL TEAM:
MEN (34 competitors):
800m: Jeff Riseley (VIC)
1500m: Ryan Gregson (NSW), Jeff Riseley (VIC)
5000m: Collis Birmingham (VIC), David McNeill (VIC), Craig Mottram (VIC)
10,000m: Ben St Lawrence (NSW)
Marathon: Martin Dent (ACT), Jeff Hunt (NSW), Michael Shelley (QLD)
3000m steeplechase: Youcef Abdi (NSW)
400m hurdles: Brendan Cole (ACT), Tristan Thomas (TAS)
20km walk: Chris Erickson (VIC), Adam Rutter (NSW), Jared Tallent (VIC)
50km walk: Luke Adams (NSW), Nathan Deakes (VIC), Jared Tallent (VIC)
Long jump: Henry Frayne (QLD), Mitchell Watt (QLD)
Triple jump: Henry Frayne (QLD)
Pole vault: Steven Hooker (WA)
Shot put: Dale Stevenson (VIC)
Discus throw: Benn Harradine (VIC), Scott Martin (VIC), Julian Wruck (QLD)
Javelin: Jarrod Bannister (VIC)
4 x 100 relay: Anthony Alozie (VIC), Tim Leathart (NSW), Andrew McCabe (QLD), Isaac Ntiamoah (NSW), Josh Ross (VIC)
4 x 400 relay: Brendan Cole (ACT), Ben Offereins (WA), Joel Milburn (NSW), Steven Solomon (NSW), John Steffensen (NSW), Tristan Thomas (TAS)
WOMEN (20):
100m: Melissa Breen (ACT)
1500m: Kaila McKnight (VIC), Zoe Buckman (ACT)
10,000m: Eloise Wellings (NSW)
Marathon: Jessica Trengove (SA), Lisa Weightman (VIC), Benita Willis (VIC)
100m hurdles: Sally Pearson (QLD)
400m hurdles: Lauren Boden (ACT)
20km walk: Regan Lamble (VIC), Beki Lee (NSW), Claire Tallent (SA)
Pole vault: Alana Boyd (WA), Liz Parnov (WA)
Discus throw: Dani Samuels (NSW)
Javelin: Kim Mickle (WA), Kathryn Mitchell (VIC)
4 x 100 relay: Melissa Breen (ACT), Hayley Butler (NSW), Jessica Knox (NSW), Sally Pearson (QLD), Charlotte Van Veenendaal (VIC)
Morning & Afternoon Newsletter
Delivered Mon–Fri.