Errichiello chases London golden goal
Plenty of publicity surrounds Canberra sprinter Melissa Breen, but little is known about our other 100 metres sprinter and medal hope, Michelle Errichiello.
Errichiello grew up jogging just for fitness and stress relief. She didn't play competitive sport and never imagined she'd be a scholarship holder at the Australian Institute of Sport.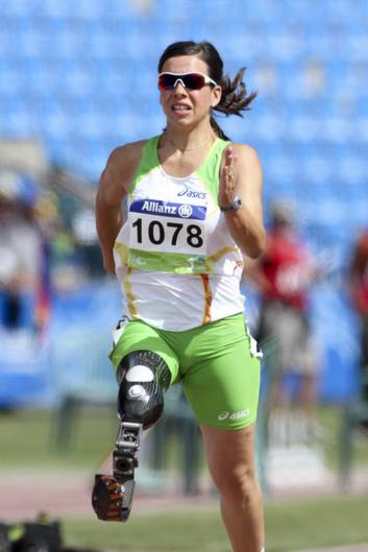 That was until she lost her leg in a freak accident. As a 25-year-old in 2007, Errichiello was putting the bins out at the real estate agency where she worked, when an out-of-control car mounted the curb and pinned her against a wall, instantly severing her right leg above the knee.
If it wasn't for a nearby off-duty fireman clamping her femoral artery with his hand, she would've died. That stroke of luck left Errichiello with a remarkably positive frame of mind.
''To be honest, I never had that deep depression about it,'' she said.
''To lose a leg, it doesn't compare to losing my life, so I guess I've never been too bothered by losing my leg.''
Errichiello started her rehabilitation by setting and achieving small goals.
''[Before the accident] I was a person who would get up in the morning, go to work, plod along and I was genuinely happy with that, plodding through life. Then after my accident, as soon as I woke up in hospital I realised how important goal-setting was going to be,'' she explained.
''My first goal was eating breakfast by myself.''
Having mastered breakfast and later walking with a prosthetic leg, Errichiello's next goal was running.
She bought a running prosthesis to help her get back to her old stress-relief routine.
''I didn't have difficulty learning how to walk again, so I just kind of assumed the running would be the same,'' she said. ''When I put the running leg on, I couldn't even walk on the thing, let alone run on it!''
She approached the Australian Paralympic Committee for help, making contact with Tim Matthews. He became her first coach and set her on the path to a world record in the 200m in her debut major race meet.
''[He said] I can teach you how to run and then if you like that, give it a good six months and if you're still interested let's sign you up with a club,'' she said.
''That afternoon I got an email from him and it said again give it a good six months, see how you go and if you like it you can start competing in local competitions then state and nationals, and that can lead onto the London Paralympic Games.
''As soon as I saw those words, 'London Paralympic Games', I was like, 'oh that's my next goal'. I can run, that's my next goal right there.''
Following the Games, next on Errichiello's list is becoming a qualified trauma counsellor.
''I've spoken to people in a similar situation [as I was in], and they haven't been able to get out of that depressed stage, and I'd love to help them to see you can achieve so much and your life can change dramatically - and for the better,'' she said.
The Paralympics begin on Wednesday, August 29.