Favier plots formula for success
FOR YEARS the Brits have ruthlessly poached Australia's coaching ranks, but we've finally got one back.
After eight years helping athletes in the Old Dart, new AIS director Matthew Favier wants to help return Australia to being one of world sport's high-performance leaders.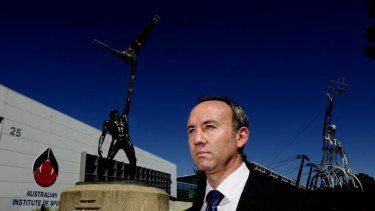 Favier has spent the past two years as head of performance at UK Sport, where he has been instrumental in Great Britain's preparations for the London Olympics.
A handful of other Australians have helped mastermind the Brits' Olympic assault, including their head cycling coach Shane Sutton, swimming coaching director Michael Scott and flatwater canoeing coach Brendan Purcell.
But Favier, who replaces professor Peter Fricker, now wants to turn the tables and incorporate some of the British system's strengths to boost Australia's Olympic hopes.
A medal projection conducted by the Australian Olympic Committee last February tipped Australia to win 42 medals and slip to eighth on the overall tally.
"Australia has the ability to finish fourth, but equally we could finish eighth and I don't think we should see that as a crisis," Favier said yesterday. "What I do know is the UK, Germany, France and even Japan are going to be competing fiercely for that fourth spot, and it could come down to one gold medal difference.
"The top three [USA, Russia and China] are very hard to displace, but that range just below is more changeable than it's ever been."
He believes this country should follow Britain's lead and invest more funding in the tiers below the elite level to ensure fewer athletes slip through the cracks.
"One of the things the UK has done well is their system allows them to invest further down the pathways in their underpinning programs," Favier said.
"Certainly that's an area we need to consider, how we position our resources that way."
Favier also admitted the AIS may look at allocating more funding to multi-medal events such as swimming, cycling and rowing, sports which carry the bulk of Australia's Olympic hopes.
"Any sport that is a medalling sport for us and has done so in the last 8-12 years should consider themselves to be in a reasonably good place," Favier said.
"If we don't value Olympic medals we're not in the right business.
"Where sports are performing well and there's additional medal opportunities for Olympic and Paralympic Games, it's very likely funding will be increased to support those sports. But we won't be backing away from team sports we excel in either."
Favier admitted his allegiances may be torn in some Olympic events when the fierce Australia-Great Britain rivalry is ignited.
He has previously coached British sprinter Harry Aikines-Aryeety, a former youth world champion he rates a chance to make the 100m final.
"I said to somebody the other day my only real conflict will be in disciplines where Australia has a competitor with a genuine chance," Favier said.
"I had to battle with that challenge when I went across in 2003.
"Being a home Games you can imagine there's been a massive amount of attention on it over there, similar to Sydney for us in 2000."