Fit-again Turner does the hippy-hippy shake towards London
Glenn Turner is ready to stake his claim for the London Olympics after recovering well from his first hit-out for the Kookaburras following hip surgery.
The Canberra Lakers striker was yesterday named in the Kookaburras squad for an 11-day Four Nations tournament in Perth starting tomorrow.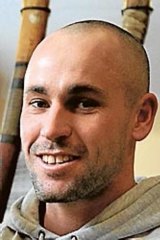 Fellow Canberran Andrew Charter was also named in the 18-man squad, while Daniel Hotchkis was picked in the Australia A squad to take on Argentina and the Netherlands.
Turner underwent hip surgery in November and played his first game since in the Kookaburras' 8-1 rout of Malaysia in Perth on Saturday.
After a rusty start, Turner was able to get himself on the score sheet in the second half.
''I missed a chance about 30 seconds in ... and pushed it wide, so that was a bit rusty, I've got to get the radar back on a bit but I ended up sliding in for a goal just after half-time so I got one,'' he said.
''It'll take a couple of games to get back into it I guess.''
The 27-year-old said there was no soreness in his hip after playing the full 70 minutes against Malaysia and he would set about building his fitness base for London.
After getting his break thanks to an injury to George Bazeley, Charter had a break-out Champions Trophy.
Coach Ric Charlesworth gave him the nod for the final, where he kept a clean sheet to help the Kookaburras to a 1-0 win over Spain.
Charter said it was a fantastic experience but knows he's in a three-way battle for keeping duties along with Bazeley and Nathan Burgers.
''I'm in a fairly confident position with my own performance. It's obviously a tough position to be in ... but with my performances over the last year and feedback from the coaches I think I'm in quite a strong position,'' he said.
Depending on Bazeley's fitness, Charter will share the stopping role with Burgers during the Four Nations and also play some games for Australia A.
While he is focused on establishing himself as the Kookaburras' No.1 goalie, he'll also have an eye on how Hotchkis performs, who he rates as a serious chance to push his way into the Kookaburras squad.
''They've had their eye on him for a while now and they said up until the end of March there's the possibility of people being added and taken out of the squads and he's been playing some good hockey.''