He was drafted in the National Hockey League and represented the USA at junior level, now Canberra Brave goalkeeper Josh Unice has put injury problems behind him to try and establish himself in Australia.
The Brave (1-1) will be looking to maintain its perfect home record when it hosts the Adelaide Adrenaline at Phillip on Saturday night.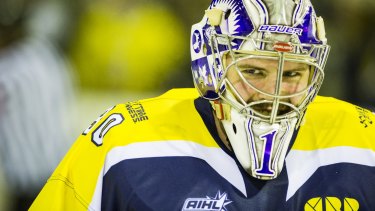 Unice was a decorated junior, representing the USA at the U17, U18 and U20 world championships. The 25-year-old was then selected 86th overall in the 2007 NHL Draft by the Chicago Blackhawks.
He never progressed to the main roster at the Blackhawks, instead spending time in the Ontario Hockey League before recently playing in Slovakia and England.
"It was humbling, but at the same time it was extremely exciting," Unice said of being drafted.
"I had some injury issues and some of my own problems ... but it was definitely exciting to be part of an organisation like that.
"Everybody has things they could do differently in their life, but I don't regret the decisions I've made now.
"I've won championships, been drafted in the NHL and got to travel the world. I've had an unbelievable career."
Unice battled through two serious knee injuries early in his career, leaving the game to study at the University of Western Ontario.
He has put law school on hold to join the Brave and replace outstanding Finnish shot-stopper Petri Pitkanen.
Unice has arrived in Australia having had a successful stint in England with the Sheffield Steelers.
He started strongly for the Brave in last weekend's season-opening 4-2 win against the Sydney Bears before being rested for Sunday's 7-4 loss to the Newcastle North Stars.
Unice's aim is to help the Brave progress further into this year's play-offs.
"I've done my best to play on teams that are striving for championships," Unice said. "Not just teams who want to have a good season or exceed expectations.
"I want to play for a team that's going to win because I don't like to lose."
AUSTRALIAN ICE HOCKEY LEAGUE
Saturday: Canberra Brave v Adelaide Adrenaline at the Phillip Swimming and Ice Skating Centre, 5.30pm.
Lee Gaskin is a sports reporter at The Canberra Times.