Furner takes the plunge - for a good cause
DAVID FURNER has likened NRL coaching to being a duck on a shooting range and now Canberra Raiders fans will get a chance to dunk the club great. As part of the Sportenary registration and family day at Northbourne Oval from 9am to noon next Saturday, Furner will be raising money for the Cancer Support Group by giving fans a chance to knock him into a dunk tank. Had it been when the Raiders seemed destined to miss the finals last year, the line would have been around the block. But given the Green Machine made the semi-finals, we're expecting it to be a bit shorter. ''People have been taking potshots at me for the past few years so here's a chance to come and dunk me in a water tank to raise money for a great cause,'' Furner said. For $5, people have the chance to throw a ball at a target and sink him. He'll be on there for 30 minutes before his players step into the firing line.
Capitals to milk it
SPECULATION is circulating that Canberra Milk is set to expand its sponsorship of local sports teams by jumping on board with the WNBL's Canberra Capitals. Locker Room believes the company's managing director, Garry Sykes, will be on hand to announce the sponsorship sometime this week. But fear not Green Machine fans, Canberra Milk will remain a loyal sponsor of the Raiders, and still plans on reviving its iconic Raiders Lime flavour next year.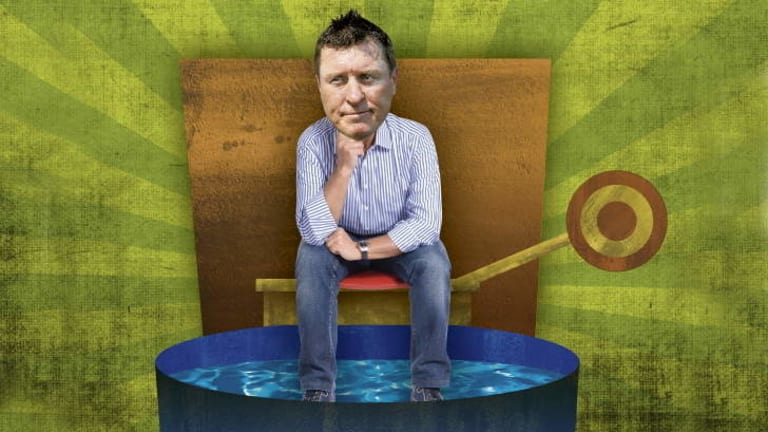 Can PM break duck?
WITH the Prime Minister's XI match set for Tuesday, we thought it was time to look back through the records to see which of our leaders has the best success rate. John Howard was chief selector for the most matches, 14, and recorded eight wins and six losses. In the battle between Kevin Rudd and Julia Gillard … well KRudd is leading that but only just. In his tenure he won one game and lost two. Gillard is still searching for her first win, but has lost only once because last year's match was abandoned.
Windies hit town in form
THE West Indies wasted no time settling into Canberra when they arrived on Saturday. After their flight landed in Australia in the morning, a group of 10 - including Chris Gayle, Kieron Pollard and Dwayne Bravo - went to The Tradies in Dickson for some afternoon drinks. They partied with some of the Canberra Capitals, Canberra United and ACT Meteors players. Bravo was even brave enough to jump on stage and sing a song. Hopefully they're in just as good form for the PM's game.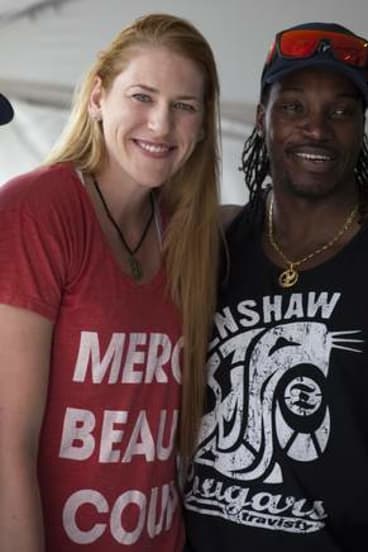 Beware the Pelicans
THE New Orleans Hornets caused a giant Twitter stir during the week when they revealed they will change their name to the New Orleans Pelicans from the next NBA season. The quite fearsome-looking bird received mixed reactions from hoops fans, but there's no doubt the franchise needs a facelift after some lean years on and off court.
Jones boy bettered
IT SEEMS Canberra golfer Brendan Jones didn't get all the talent in his family. We stumbled across a story in The Bateman's Bay Post that said Jones' dad Trevor upstaged his professional golfing son with a hole-in-one at the Tuross Head Country Club. Trevor carried the 192 metres over water on the par-three 16th hole and dropped it in. "Brendan may be rated in the top 100 in world golf but today with this hole-in-one I have done something my son never achieved on this hole, despite playing the Tuross course from a very early age. I am not going to let him forget it," Trevor said.
Green Machine becomes Red Hot favourite
ROCK star Flea has jumped on the Green Machine bandwagon before the NRL season after Canberra Raiders fan Nick Risteski presented the Red Hot Chili Peppers bass player with a jersey at Moruya this week. The Chili Peppers spent five days on the south coast between their appearances at the Big Day Out and Risteski was invited by a friend to ''hang out'' with the American rock band. Risteski is friends with Raiders playmaker Terry Campese and asked for a jersey to give to Michael ''Flea'' Balzary, who has a holiday home at Moruya. ''I'm a tragic Chili Peppers fan and it was awesome when my friend invited me down,'' Risteski said. ''I just wanted a jersey to give to Flea as a present and he's into his sport. Flea's a massive LA Lakers fan and so I asked if he'd heard of rugby league. He said he knew a little bit about it, but not too much. I said the Raiders are a favourite team of mine and, to help him understand, I said [Campese] is to the Raiders what Kobe Bryant is to the Lakers.'' Risteski also got a Chili Peppers shirt signed to donate to Raider Joel Thompson's charity auction. Thompson is auctioning off memorabilia to raise money for Ryan Dollisson who had his foot amputated after a workplace incident in Albury.
Acess denied
A big Locker Room congratulations to Nick Kyrgios on winning his first major title as a junior on Saturday. The junior boys world No1 claimed the Australian Open trophy in Melbourne. But what's been interesting is the reluctance of some of Australia's greats to offer a comment on Kyrgios' boom career. We tried to speak to champions Pat Rafter and Pat Cash last week about Kyrgios while they were at a promotional day junior and sponsors. But both requests were denied. Interesting.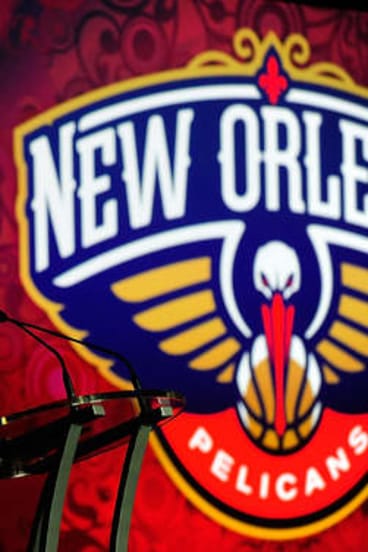 Morning & Afternoon Newsletter
Delivered Mon–Fri.