Move over Michelle Wie, there's a new teenage golf wunderkind in town.
Fifteen-year-old Lydia Ko ''grew up'' idolising Wie, but it was the American who watched in awe as the New Zealander shot a superb 10-under 63 in round one of the Australian Open at Royal Canberra.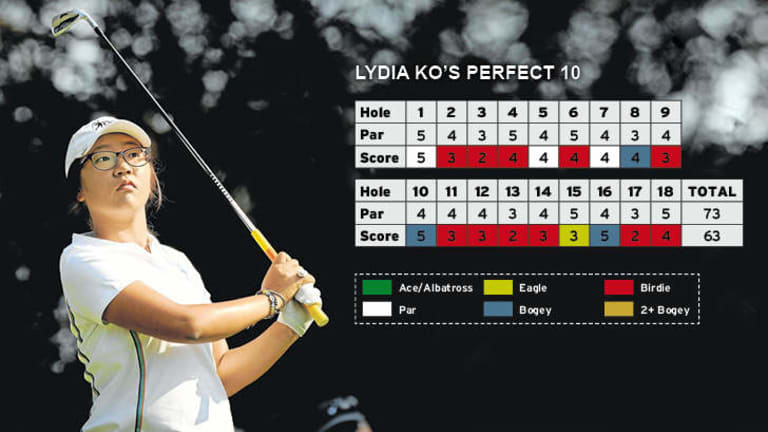 Despite starting with a bogey on the par-four 10th, Ko needed just 30 shots to complete the back nine and her playing partners, Wie and world No.1 Yani Tseng, thought 59 was a real chance. The world's top-ranked amateur was nine-under through 13 holes, before a bogey on her second-last hole halted her momentum.
She holds a one-stroke lead from Colombian surprise packet Maria Jose Uribe (nine-under), with Korean world No.8 Jiyai Shin in outright third at eight-under.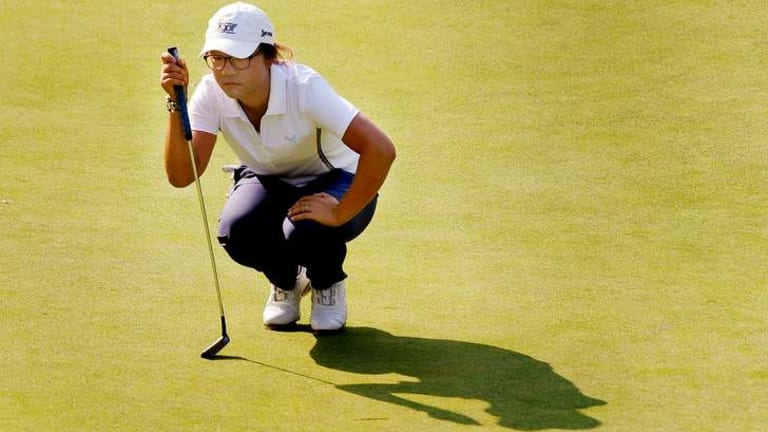 In August, Ko became the youngest winner of an LPGA event when she won the Canadian Open.
Her amateur status forced her to forgo the $US300,000 winner's cheque, and she will wave goodbye to $US180,000 should she claim the Australian Open crown.
Wie, now 23, also took the golf world by storm as a teenager, but has since won just twice on the LPGA Tour.
It takes plenty to impress Tseng these days, but she was stunned by her first in-person glimpse of the Ko phenomenon.
Incredibly, Ko hit her career-best round despite registering three bogeys, and was outstanding on the greens with 21 putts.
''Me and Michelle Wie were going, 'she's only made one par [through 13 holes], she can shoot 59, we're going to see history today','' Tseng said.
''She just looks like a child. She still looks 15, but the way she plays golf she looks like a pro.
''I treat her as a pro, but I treat her as a child, too.
''Michelle was telling me that Lydia told her she watched her play when she was growing up, and Michelle is, 'I'm not that old'!''
While Wie has struggled with the transition from child prodigy to professional star, Ko gives every impression she will handle the limelight.
Her calmness afterward was telling, more befitting of an average pro-am round than her incredible feat.
''You can tell she's very relaxed,'' Tseng said.
''Her putting was incredible, this green is not that easy to read, and every putt, even if she missed, she almost made it. Five-under is a very good day but playing with Lydia, five-under is like nothing.''
Ko admitted she had butterflies when she learned she would be playing in the same group as Tseng and one of her idols, Wie.
That may have contributed to her opening bogey, but it wasn't long before she made Tseng look like the amateur.
She hit four straight birdies from holes 11 to 14, and registered an
eagle on the par-five 15th by chipping in from 90 metres.
''I was really nervous when I saw the draw, and that I was playing with two big names,'' Ko said.
''After my bogey on the first hole I thought, 'What's today going to be like', but after a couple of birdies I settled in, and felt pretty comfortable.''
Ko said thought thoughts of 59 never entered her head.
''Not really. I've played good golf before and gone triple-bogey-double to finish, I didn't think about what I was going to shoot,'' she said.
''Michelle has always been my favourite player and I've always said hello and that's pretty much it.
''Today to be able to play with her was very exciting, you don't get many chances to play with the person you look up to.''
Ko's 63 bettered Kristie Smith's course record nine-under 64, which she registered in the final round of her 2010 Canberra Ladies Classic win.
However, Ko's round cannot be ratified as a course record, as preferred lies were in place today due to dry and wet patches on course.
Ko is not eligible to play on the lucrative LPGA Tour until she is 18.
Wie played a handful of events through sponsor's exemptions aged 16 and 17, and tour organisers view Ko as an even greater publicity tool.
''I could enrol in college and do it later after a year of going pro, or doing it the same time, but you know, I definitely will be wanting to go to college,'' she said.
''Hopefully this year I will have a few more years to get over to the states.''
Ko hasn't opened a school book since last year, and doesn't plan to for a few more weeks.
Until then, she's content to take the world's best golfers to school.

Jon Tuxworth is a sports reporter at The Canberra Times.
Morning & Afternoon Newsletter
Delivered Mon–Fri.