STUART APPLEBY knows the feeling all too well. It arrives with a rumble about three or four in the morning, turns into a raging typhoon by the time you are due on the tee and prompts the inevitable question: ''What the hell did I eat last night?''
Greg Norman's early departure from the Australian PGA Championship at Coolum was a setback for organisers and a rarity for the generally fit and healthy 57-year-old. But food poisoning is somewhat of a trade hazard for golfers, who eat out almost daily when they are on the road.
Norman wasn't upchucking his breakfast when he made his way to the tee for an early start on the Sunshine Coast but it was clear from the outset something wasn't right. The big frame, which remains a powerful force with a golf club in hand, was listless and he started with a pair of bogeys.
Two holes in, the Shark had seen enough. He made a polite farewell to play partners Appleby and Jake Higginbottom before retiring to be treated by a local doctor, although Appleby had already provided a fairly detailed diagnosis.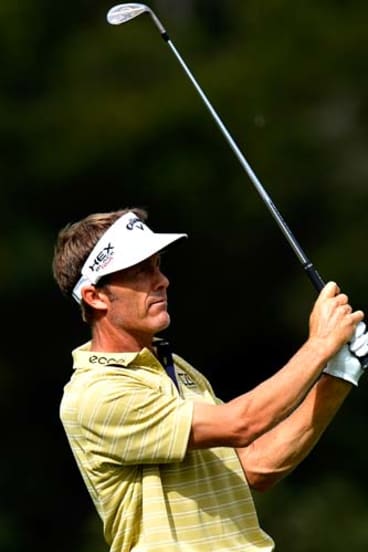 ''I guess he was feeling crook in the guts. That's the Australian version,'' Appleby said.
''I'm not sure if he warmed up on the range or not. He was just going to see how the swing mechanics were and obviously there's that thing in the back of your mind that says, 'I don't want to shit myself on the golf course'.
''He looked normal. It wasn't as if he was on the tee going, 'I'm going to throw up'. When he left he told us he wasn't feeling too good.''
Norman was in good spirits before his opening round, partly inspired by the victory of fellow veteran Peter Senior the previous week at the Australian Open. He even managed to fit in a game of tennis on Wednesday night before dining off-course at an undisclosed restaurant.
But it all came back to haunt him on the first tee and Appleby, who shot two under, said he knew exactly how Norman felt. Eating out regularly makes dining somewhat of a trade hazard for travelling pros, even when money is no barrier to choosing an eating establishment.
''It doesn't take much. I can think of a few tournaments where I've either been on the IV bag to try and get ready for a tournament or after the round trying to get right. If you've got it bad, it's really bad,'' Appleby said.
''Your pace of play, you just can't move quick enough. You can't do anything. I don't know what part of the whole cycle he's in but it's not a good feeling.
''We've all been there with food poisoning. You either feel OK but you're extremely weak and fatigued or you feel like something could go any moment anywhere.''
Appleby remembers a run-in with some questionable Mexican cuisine in Ohio as a particular lowlight.
''I can think of a few times. I've got really crook on Mexican in Ohio, not far from where I live right now. I've got really crook with some Japanese players sitting across from me. The next day I was as weak as a kitten,'' he said.
''It is a hazard - and it's the worst feeling. You really know about it at three or four in the morning and starting to get a real inclination something's going on.''
This was Norman's only scheduled appearance at an Australian tournament this year and it's unsure whether he will return for the 2013 PGA Championship, which must find a new home after negotiations with the Clive Palmer-owned resort failed to reach an agreement.

Sports reporter
Morning & Afternoon Newsletter
Delivered Mon–Fri.