Six-time WNBL champion Natalie Hurst is coming home to Canberra, with the Capitals to announce on Thursday that she is leaving France to sign a one-year deal with the club.
The former Australian Opals guard is a Canberra junior and was a mainstay of the Capitals during their championship years, playing in six of the club's seven WNBL championship squads.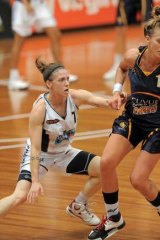 Hurst, 30, left the Capitals after the 2009-10 grand final to play for Aix-en-Provence in France.
It is expected Hurst will form a partnership with point guard Nicole Hunt in the Capitals backcourt.
The Capitals are still on the hunt for more forwards, resigned to losing Most Valuable Player Brigitte Ardossi and Mikaela Dombkins to Melbourne-based clubs.
The Capitals are still in talks with basketball superstar Lauren Jackson about a return to the club next summer.
Chris Wilson is the sports editor at The Canberra Times.