Canberra Brave goal-tender Aleksi Toivonen is continuing a family tradition, bringing his talents from Finland to excel in the Australian Ice Hockey League.
Aleksi was born in Canberra while his father Harri was playing for the now-defunct Canberra Knights in the mid-1990s.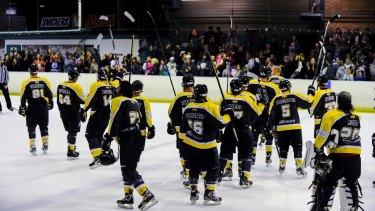 Raised in Finland, Aleksi has been a revelation for the Brave after joining the club midway through the season in the home stretch towards the playoffs.
The fourth-placed Brave can secure their place in the post-season whey they host the top of the table Newcastle North Stars at the Phillip Swimming and Ice Skating Centre on Saturday night.
Toivonen, 19, said it had been a long-held ambition to have a stint playing ice hockey in Australia.
"It was my dream to come and play ice hockey in Australia for a very long time," he said. "I wanted to follow in my father's footsteps because he was a Canberra Knight and it was his dream to come here and play ice hockey.
"Now, it's mine."
The Brave have an excellent track record with Finnish goal-tenders in the club's short two-year existence.
Petri Pitkanen was the Brave's most valuable player for their inaugural season last year, conceding just 2.93 goals per game and having a 90.6 per cent save record.
An injury to starting goal-tender Josh Unice saw Toivonen thrust into the nets within weeks of his arrival.
Following his first two games, the Brave made a shock decision to appoint Unice as head coach, paving the way for Toivonen to take over as the team's starting net-minder.
Unice has been very impressed with Toivonen.
"I think he's been great for us, he knew how heavily we were gonna rely on him and he's calmed down in the net," he said.
"He played at the level I expected him to and the level I know he expects from himself. For as young as he is, he's showing people that he can definitely play."
Toivonen said having Unice as a coach has been extremely beneficial.
"Josh becoming coach is the best thing that could have happened to me," Toivonen said. "He has been a great coach to me.
"In Finland, we don't have that much goalie coaching, so it's been pretty good for me to have him around."
SATURDAY: Australian Ice Hockey League: Canberra Brave v Newcastle North Stars at the Phillip Swimming and Ice Skating Centre, 5.30pm.