Is roller derby a genuine sport?
It's the debate sure to divide sports fans - should roller derby be considered a genuine sport?
A day after Canberra's superstar on skates, Christine Murray, upstaged a who's who of sporting royalty to win an online poll as the top Australian female athlete of all time, the five-on-five bash-fest is endeavouring to climb out of novelty status and gain mainstream respect.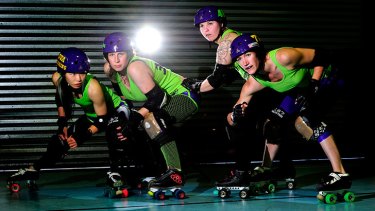 While swimming legend Dawn Fraser was rightfully crowned Australian's greatest female athlete in a ceremony at Parliament House on Wednesday night, the multi Olympic and Commonwealth Games gold medallist was no match in the online sphere for the feverish roller derby community.
Through an eight-month social media campaign on Facebook and Twitter, they generated enough votes on the Sport For Women website to get Murray over the line.
Yet there's still a perception roller derby, with its crazy costumes, outrageous aliases and brutal hits, is more entertainment value than anything else.
Canberra Roller Derby League spokeswoman Iggy Block said the sport's booming popularity deserved greater recognition from the wider community.
''I hope it helps people know it is a real sport and they will perhaps take us more seriously,'' she said.
''It's more than just a spectacle.
''As a league we really recognise how much she (Christine) trains and how much she works.''
Block admitted she was a little surprised to see Murray upstage the likes of Fraser, athletics champion Betty Cuthbert and surfing great Layne Beachley.
''Yeah, but it's a contemporary sport,'' she said.
''It's the fastest growing women's sport in the world, so I think it's really increasing in popularity and getting a lot of recognition.''
Roller derby consists of five players on each team, with four players as blockers and teams scoring points when the ''jammer'' gets through the pack.
Murray, otherwise known by her roller derby alias of Short Stop, is an out an out superstar of the sport.
She represented Australia at the Roller Derby World Cup in Canada in 2011 and has been a guest skater for American outfit, the Gotham Girls, during their recent tour Down Under.
Block said events at the AIS Arena can attract between 3500-4000 fans, with six events held per year.
The CDRL gets underway on March 23 at Tuggeranong, while the city's representative team, the Vice City Rollers, is also involved in inter-state matches.
For more information on how to get involved, visit the website.
Lee Gaskin is a sports reporter at The Canberra Times.