Canberra Cavalry coach Michael Collins says all Jack Murphy needs to play Major League Baseball is for the Toronto Blue Jays to give him a chance.
Murphy capped a stellar Australian Baseball League season – his third – by winning the Cavalry Most Valuable Player Award, just days after meeting Prime Minister Tony Abbott on Australia Day.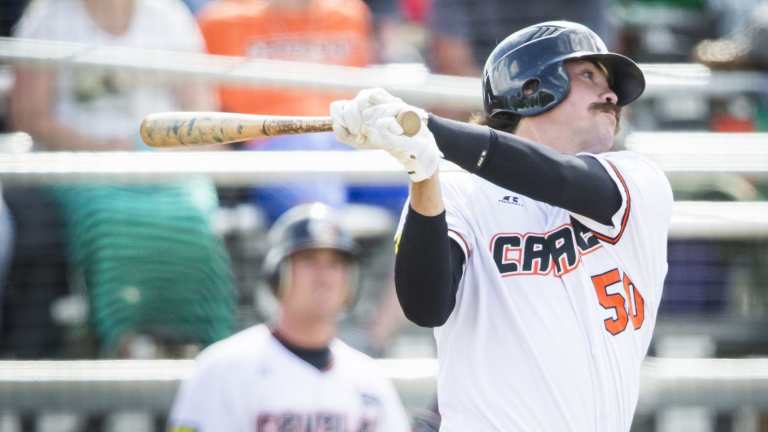 Cavalry fans will be hoping Mr Abbott skips the knighthoods and gives the Canberra hero Australian citizenship so he can play as an Australian next season.
Murphy not only won the Cavalry's MVP Award, but also took out the Player's Player and Silver Slugger awards.
The 26-year-old has improved every season he has spent Down Under, finishing with a batting average of .353 (the third best in the ABL) and a league-leading 37 runs batted in.
Shortstop Marcus Lemon won the Golden Glove, Tim Atherton was pitcher of the year, Dustin Crenshaw won the relief pitcher gong and Adam Silva was the fan's choice.
Collins said Murphy had taken his game to another level this summer and felt he was knocking on the door of a Major League call-up.
Murphy has been the back-up catcher in the Toronto Blue Jays double-A and triple-A teams, but Collins felt if he got a break then he would be ready for the Show.
"He's definitely ready to, it just now becomes a matter of if he can fight for his opportunities to prove himself," Collins said.
"He's been that back-up-type, which is fine, and obviously he'd like to play a little bit more and I think he's ready to, it's just a matter of getting that opportunity to show what he is capable of doing."
Collins, nominated for the Baseball Australia performance coach of the year award, said not making the ABL finals was disappointing after a season of ups and downs.
But he pointed to the emergence of Robbie Perkins and Jason Sloan as positives going forward.
From a Blue Jays perspective, as well as Murphy's year, Collins said Christian Lopes' season had also been a standout until a hamstring injury ended his Canberra campaign.
"I thought with the guys like Robbie Perkins stepping up and being a real contributor and as a Canberra guy, as well as Jason Sloan ... he definitely stepped up and was a big part of our offence at the end there making our runs," Collins said.
"Hopefully they are guys that can return next year and have an even bigger role."
Collins said he would love to return to manage the Cavalry next season, but it would depend on what happens with his MLB club, San Diego, this year.
CANBERRA CAVALRY AWARD WINNERS
Most Valuable Player: Jack Murphy
Player's Player: Jack Murphy
Golden Glove: Marcus Lemon
Pitcher of the year: Tim Atherton
Relief Pitcher of the year: Dustin Crenshaw
Silver Slugger Award: Jack Murphy
Cavalry Fan Player of the year: Adam Silva
David Polkinghorne covers the Canberra Raiders, local rugby league, Canberra Cavalry, racing and cycling, along with every other sport, for The Canberra Times.