Kyrgios gets some horsepower
Fast cars and tennis players don't mix all the time, but you can bet on Nick Kyrgios avoiding the same pitfalls as Bernard Tomic. There are a lot of similarities between Australia's two brightest tennis stars – cars, rising profiles and fancy hairstyles. But while Tomic has been nabbed going too fast in his yellow Ferrari, Kyrgios' family is making sure he doesn't go down the same path. Kyrgios spent his first few days back in Canberra driving his sister's Hyundai i30. But keen for a bit more horsepower, his management teamed up with Mercedes for the 19-year-old to drive around in a new car while he's in Australia. Tomic ran into trouble and lost his licence while driving a Ferrari and he's also been in trouble while cruising in an orange BMW. The pair aren't alone in a love of cars. Mark Philippoussis couldn't hide his affection for cars and has raced in celebrity formula one. Kyrgios' profile has hit dizzying heights in the past week after he beat world No.1 Rafael Nadal at Wimbledon. His manager has been sifting through plenty of offers from a wide range of companies. But his management team and family want to keep a clean image. In fact, Kyrgios says he's been a bit embarrassed by all the attention he's been getting since arriving home. "People keep talking about how my life will change forever and although I feel exactly the same and believe me, my mates and my family will not allow me to change. But I have noticed a change in the way people are now towards me, I notice a lot more people stare and point."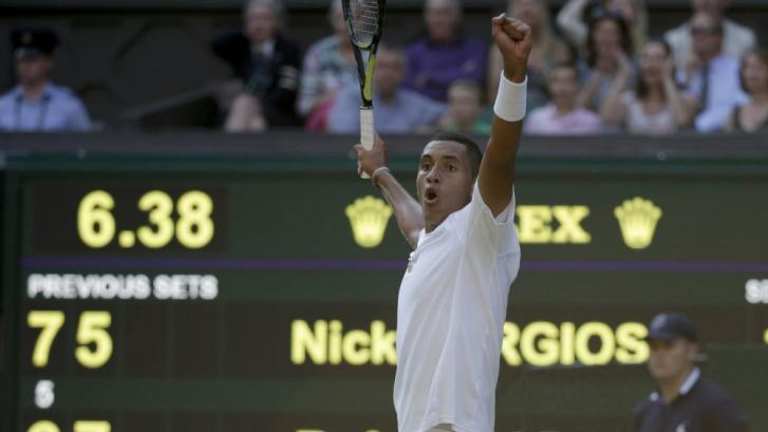 Hair-raising bet costly
Tennis ACT chief executive Ross Triffit is hoping a rash bet in the middle of the night will help find the next Nick Kyrgios. While watching Kyrgios play then-world No.1 Rafael Nadal at Wimbledon, Triffit promised to get a Kyrgios haircut if he won. But Triffit's wife put her foot down and he was forced to come up with a compromise – raise $10,000 towards junior tennis and the promise can be fulfilled before the US Open. "As the CEO for a not-for-profit organisation any deal I do involves various stakeholders and the most important stakeholder in this deal is my wife," Triffit said. "When I said I'd cut my hair if Nick wins, she said, 'No bloody way'. I can't welch on the bet so what if I do some good and raise some money and she agreed to that." All the funds raised will go towards helping juniors with travel expenses to represent the ACT or possibly to buy a mini bus. Triffit is setting up a website for donations, but in the meantime contact Tennis ACT on 6160 7800 to donate. He's going to ask Nick to recommend a hairdresser.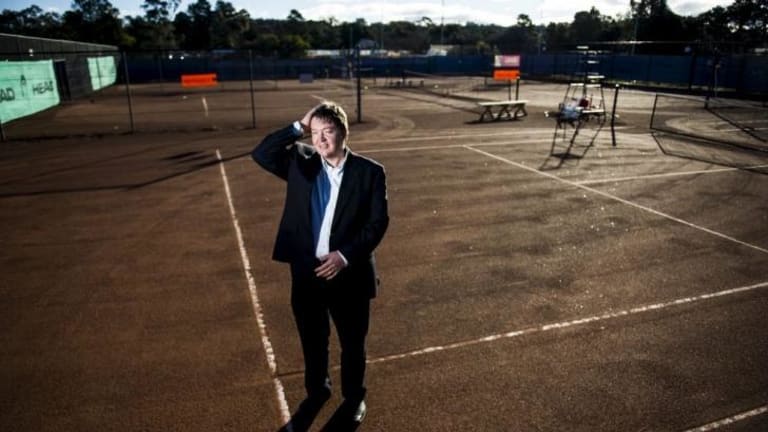 Brumbies clean-out
There will be a massive turnover at Brumbies headquarters when their Super Rugby finals campaign finishes in the next few weeks. Up to 17 players and staff will leave Canberra, and it's not just the players who have been targeted by overseas clubs. Director of rugby Laurie Fisher will leave almost immediately to start his head coaching job with Gloucester. Performance analyst Warrick Harrington has been poached by French club Narbonne and head physiotherapist Hamish Macauley has been promoted to the top job at the ARU. Manager Tony Thorpe is also set for a new challenge, while Clyde Rathbone, Ben Mowen, Lachlan McCaffrey, Ruaidhri Murphy, Leon Power and Tom McVerry are among the players moving on. Coach Stephen Larkham is working on a new management and coaching structure while he also leaves some spots in the roster to allow players to impress in the new National Rugby Championships.
That's it for the Badger
He was treading about as softly as a bull in a china store, carrying a case of beer on his shoulder and eating pizza, but Nick "the Honey Badger" Cummins was short of words for once after his last game in Australian rugby. Cummins, the quintessential Australian, did not want to speak to waiting media after the Brumbies knocked the Western Force out of the Super Rugby title race on Friday night. Devastated that the Force's season had ended and his Australian career was over after being released from his ARU contract, Cummins was "off like a bride's nightie". When asked if he wanted to speak to the media, Cummins said: "Nah, I just want to have a few beers with the fellas." How can you hold a grudge against the Badger? You can't. Especially after he's delivered gold for rugby in Australia. Hopefully he "claws the canastas off them" in Japan and "bags plenty of meat".
PeeWees in ice
The CBR Brave have reinvigorated ice hockey in Canberra and play in front of sell out crowds and now a PeeWee team from Canada is stopping in the capital for some game time against the ACT's best juniors. The Canberra Phoenix PeeWee team for 11 to 13-year-olds will play the Maple Maniacs at the Phillip on Sunday and Tuesday. The Maple Maniacs are from Ottawa and their coach, Mike Paron, is a former Canberra resident who played hockey in the capital while studying at university. The Maple Maniacs spent more than a year raising money for their tour for games in Sydney, Canberra and Brisbane. The games in Canberra will be played on Sunday at 3.45pm and Tuesday at 5pm.
Judo club throws down gauntlet
It's the newest judo club in Canberra, but it has already broken through for national success and the Olympia club hopes it continues into the future. Tristan Eldridge and Stephanos Georgiadis won gold medals in the 50 kilogram and 100 kilogram plus divisions respectively at the national championships last month. Eldridge has been undefeated in two international, two state and the national championships. The Olympia club was the only Canberra club to have a 100 per cent success rate for its athletes. "The growth in our club is showing top quality players who prepare well before tournaments," Georgiadis said. Georgiadis, a former Australian and Greek national champion, started the club two years ago.
Feast for squash fans
An Australian squash great will be playing in Canberra on Sunday to finish his preparations for the Commonwealth Games in Glasgow. Former world No.1 David Palmer will play an exhibition match at the Woden squash courts after ending his retirement to compete at a fifth Commonwealth Games. The 38-year-old won a silver medal at the 2006 Games and he was worked with the Wallabies to help increase the team's fitness when Robbie Deans – an avid squash fan – was coach. He has won the world open twice, and will play against Matt Karwalski in an exhibition match. The match will start at 3pm and the pair will also host coaching clinics for juniors before the match.
Raider v shark
Raiders prop Paul Vaughan never backs down from a challenge on the field. But he admitted to being slightly more nervous during a shark diving trip in South Australia last month. Vaughan used the club's first bye week of the season to travel to Port Lincoln with his girlfriend where they took to the open seas. The pair got a spectacular up-close view as this picture taken from Vaughan's Instagram account shows. Vaughan had a more sedate time during last weekend's bye week, staying in Canberra in preparation for Sunday's match with the Gold Coast Titans.
On the edge of glory
Canberra Raiders centre Jarrod Croker was the most reluctant celebrator when NSW claimed the Origin shield for the first time in nine years on Wednesday, and who can blame him? Croker was called into the Blues squad for game three preparations to get a taste of life in camp as a potential player of the future. "I wasn't going to go and get my photo with the shield or anything, I didn't even want to go on the field, but one of the boys dragged me on there,'' he said. "It was good to be a part of, but I'm definitely not claiming a series win by any means.'' The 23-year-old unwittingly found himself on the very periphery of the team celebration shot with the shield in the middle of Suncorp Stadium. Hopefully he gets a chance to play a bigger part than training buddy in coming years.
Need for speed satisfied
Canberra cyclist Michael Matthews' loss was one cycling fan's gain. Matthews suffered an 11th hour training crash that left him with six stitches in his right hand and unable to compete in the Tour de France. He was gutted to miss the Tour, but some of that pain was taken away when he played Xbox against one of his fans, swapping his lycra for a controller and playing Forza Motorsport 5 – a car racing game.
Three-legged race record bid
The Canberra Raiders in conjunction with Habitat Personnel and the Department of Veterans' Affairs will be attempting to break a Guinness World Record by staging the largest ever three-legged race on August 12 at Northbourne Oval. It's all part of the NRL's close the gap round in round 23. The three-legged race aims to bring indigenous and non-indigenous Australians together in a bid to achieve the world record which currently stands at 649 pairs of three-legged racers. The Raiders NRL squad and coaching staff will all be part of the event, and are encouraging members of the public to turn up on the day to help break the record. Registrations for the race will start from noon on the day, with the race to start at 12.30pm.
Along came a cider
There could be a war of the ciders on the cards at Raiderland, with Raiders club captain Terry Campese and prop Dane Tilse both getting among the beverage game. Campese has been involved in bringing European cider Mokai to Australia. A launch party was held in Canberra recently, with Raiders players invited, tweeting and Instagramming pictures of the product on social media. On the other hand, Tilse is the Canberra-based sales representative for the family business. Tilse's Apple Truck Cider is well established in the Hunter Valley and the Central Coast, and is taking off in Canberra as well.