Major sports all facing a long, bumpy ride
MALCOLM Speed, one of Australia's leading sports administrators, says the country's major sports must brace themselves for months of investigations into the use of performance-enhancing drugs and have no choice but to ride out the scandal.
Speed on Thursday met the heads of the governing bodies of Australia's seven major sports - the AFL, NRL, cricket, soccer, netball, tennis and rugby - a week after the Australian Crime Commission outlined concerns of illegal activity across Australian sport.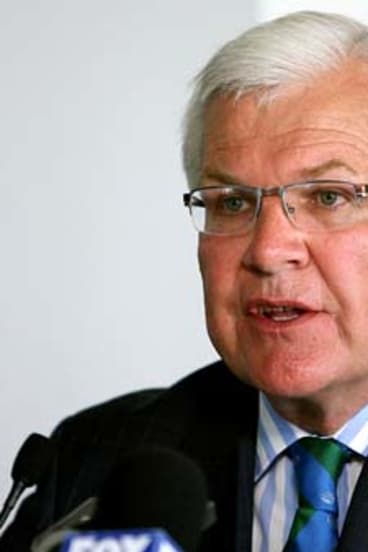 In his role as executive director of the Coalition of Major Professional and Participation Sports, Speed said the seven sports had now had time to digest the ACC report and had nominated the use of performance-enhancing drugs as their major concern, over the threats of illicit drugs, match fixing and links to organised crime.
Essendon, one player from one other AFL club and six NRL clubs are under investigation by the Australian Sports Anti-Doping Authority over the possible use of performance-enhancing drugs, but many other sporting figures claim they have been unfairly tarnished through the lack of specifics to have emerged.
Speed admitted there was frustration among sports administrators over the lack of detail, but said they had to await further findings.
''It's fair to say there's some irritation, but there's also a realisation that we don't yet know the full story so it's not appropriate to comment on what might be there and what might not be there,'' the former Cricket Australia and ICC boss said.
He said in the meantime, sports had to buckle up for a tough ride.
''It's going to take time. It's a matter of months, not weeks. It could be three months, it could be six months,'' he said.
FFA chief David Gallop made it clear after Thursday's meeting that Australian soccer had nothing to be alarmed about. ''I reiterate that no specific concerns have been raised in relation to football, but as a sport we will remain vigilant in this area,'' Gallop said. ''The AFL and NRL indicated that they are involved in ongoing issues, but that the focus is not on match fixing.
''All sports confirmed that they have strict drug and integrity policies in place. We will all review those policies as appropriate.''
Morning & Afternoon Newsletter
Delivered Mon–Fri.