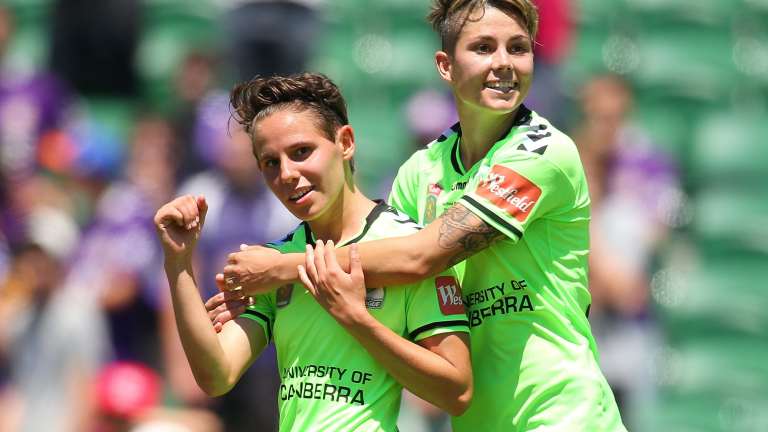 Williams will be battling it out with Hudson and MacKenzie Arnold as the team's first-choice goalkeeper, but she was relieved to have simply made the squad.
"Personally I haven't worked this hard in my life for anything football-related," Williams said.
"Right from when I got injured to this point now and ongoing, it's just been a whole lot of support from friends, family, teammates, coaches, international players.
"There's been a real drive from me and all those people.
"She's worked extremely hard through the rehab and she's done a tremendous effort to get back as strong and as fit as she has done.
"Her performances are starting to improve week to week, which is good signs for the month ahead."
Sykes and Heyman will be playing in their first World Cup.
Sykes is coming off a terrific season for Canberra United in the W-League, winning the award for goal of the season.
Heyman has scored 11 times in 33 appearances for the national team.
"I thought Ash struggled at the Asian Cup last year and she started quietly in the W-League as well, but the last three weeks of the W-League she was instrumental in Canberra winning the competition," Stajic said.
"Since she's rejoined the squad, she's been unbelievable. She's the most improved player in the team.
"(Heyman) has the whole package - she's mobile, she's aggressive and follows team instructions to a tee."
The Matildas open their World Cup campaign against the US on June 9 (AEST) as part of a challenging group including Sweden and Nigeria.
Matildas squad: 1. Lydia Williams (gk), 2. Larissa Crummer, 3. Ashleigh Sykes, 4. Clare Polkinghorne, 5. Laura Alleway, 6. Servet Uzunlar, 7. Steph Catley, 8. Elise Kellond-Knight, 9. Caitlin Foord, 10. Emily van Egmond, 11. Lisa De Vanna, 12. Leena Khamis, 13. Tameka Butt, 14. Alanna Kennedy, 15. Teresa Polias, 16. Hayley Raso, 17. Kyah Simon, 18. Melissa Hudson (gk), 19. Katrina Gorry, 20. Samantha Kerr, 21. Mackenzie Arnold (gk), 22. Nicola Bolger, 23. Michelle Heyman.
Lee Gaskin is a sports reporter at The Canberra Times.