AUSTRALIA'S women's sprint relay team, with Sally Pearson and Melissa Breen, has lost its place in the London Olympics but two men's relays teams have surprisingly been added.
After the final qualifying deadline, Australia's two men's teams found themselves inside the important top 16 and therefore on the plane to London. Off the plane was the women's 4 x 100 metres team, which had been ranked 16th at the Australian cut-off date but slipped to 18th in the world by the July 2 deadline.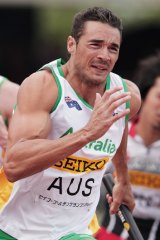 The men's 4 x 400m team is ranked 13 in the world, and the 4 x 100m 15th. The inclusion of the men's 4 x 100m team means veteran sprint star Joshua Ross, an Athens Olympic relay finalist who quit the sport for two years, will represent Australia at another Olympics.
Ross returned to the track last year after two years away and in Kawasaki, Japan, in May recorded an impressive time of 10.16s, though it could not be considered for Olympic qualifying due to an illegal 2.9m tailwind.
Others named with Ross are Andrew McCabe, Anthony Alozie, Tim Leathart and Isaac Ntiamoah.
''It is such a big relief to be secured in the top 16 teams,'' 22-year-old Leathart said. ''It's only really just hit me I guess, it's slowly sinking in.''
Veteran John Steffensen who was part of the 4 x 400 relay team that won Olympic silver in 2004 will join 19-year-old Steve Solomon and experienced runners Joel Milburn and Ben Offereins.
''The team has been working really hard. With two 3:01 performances we were always confident, but now it is official and we can really look towards London and hopefully build on what could potentially be a big result for us,'' Solomon said.
''The first step is we've got to try and make that final in London.
''Everyone in the team is capable of producing an outstanding run … Hopefully we can pull it all together and come out of London with something shiny around our necks.''
- Steve Hooker has admitted he doubted he would ever jump again as he battled with the yips over the past 18 months. Hooker says in a new documentary chronicling his painstaking road back to the Olympics that he thought he would not be able to compete again when he was beset by mental hurdles stopping him jumping.