Alonso's spectacular F1 crash proves value of mandatory safety system
Spa-Francorchamps: Fernando Alonso has crashed spectacularly out of the Belgian Grand Prix at the start with his McLaren flying over the top of Charles Leclerc's Sauber.
Nobody was hurt in the incident triggered by the Renault driven by German Nico Hulkenberg, who locked his brakes and rammed the rear of Alonso's car into the first corner on Sunday, but it could have been much more serious.
Alonso's car skimmed over Monegasque rookie Leclerc's head, appearing to make contact with the halo system that was made mandatory at the start of the season to protect the drivers from such glancing blows.
"The halo was a very good thing to have today. I think for him, it helped, looking at the replay," commented the Spaniard.
"We don't need to ask whether it is a good thing [to have]."
"It is tough to understand how you can miss the braking so much," he added of Hulkenberg's actions.
The accident brought out the safety car for four laps.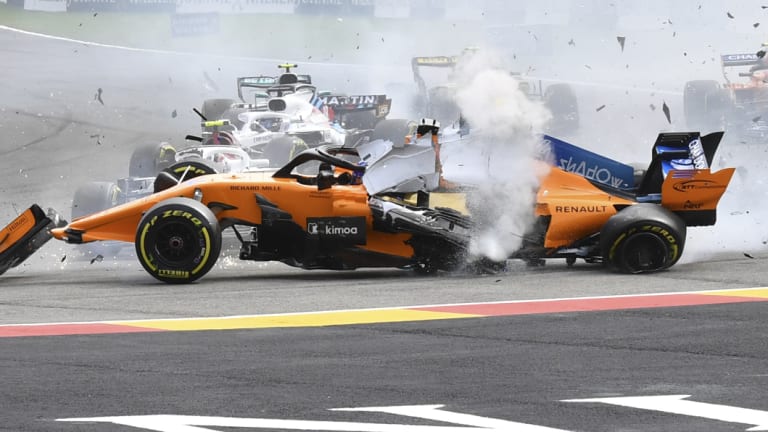 ''We can end the HALO discussion now. It will save lives,'' tweeted 2016 world champion Nico Rosberg after seeing the images.
The ring-like "halo" was introduced this season to protect the drivers' exposed helmets from precisely such sideways glancing impacts as well as frontal blows.
''I felt the impact and looking at the image it is quite spectacular. It was lucky,'' said Leclerc, whose family have close ties with that of the late French driver Jules Bianchi who died of head injuries in 2015.
''I got quite a lot of messages. My mum called me quite a lot of times. Everyone was quite worried.''
Formula One race director Charlie Whiting said the governing FIA would be contacting Sauber for more information about any damage to the halo.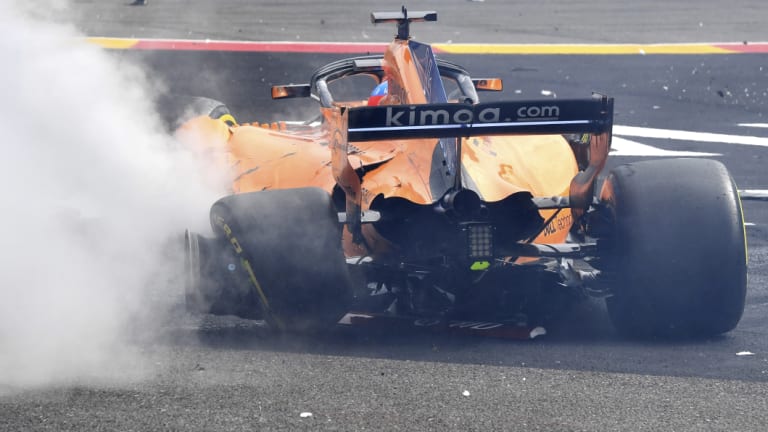 ''I think what is clear is the significant tyre marks on both the chassis and the halo,'' he said. ''It looks like it's had a fairly hefty whack.
''It doesn't take much imagination to think that the tyre marks would have actually been on Charles' head. It would be a bit of a miracle if they weren't, had the halo not been there.''
Hulkenberg was handed a 10-place grid penalty for next weekend's race in Italy after the collision.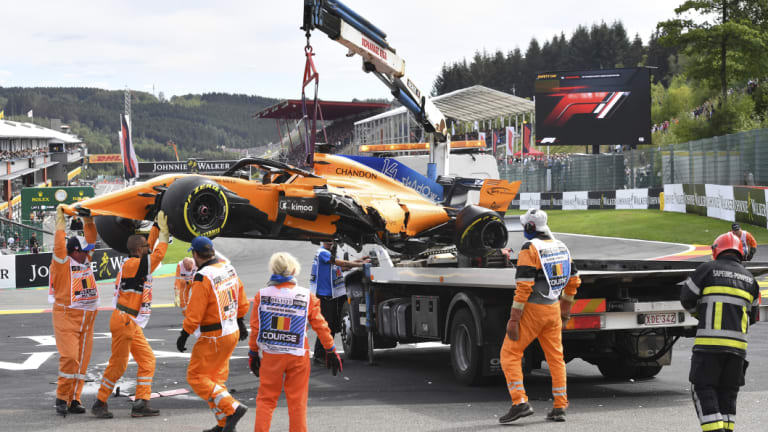 Race stewards at Spa also gave the German three penalty points, taking his tally to four for the calendar year.
''It was nasty, it doesn't look great. It's my bad, my mistake. Today it went wrong quite badly. I'll accept it and move on,'' Hulkenberg said.
Any driver who accumulates 12 points in that period gets a race suspension.
"The driver of car 27 [Hulkenberg] stated that he completely misjudged the situation and freely admitted it was his mistake," stewards added in a note.
The collision was reminiscent of one in 2012 that also involved Alonso, when Romain Grosjean's Lotus-Renault flew onto the double world champion's Ferrari at the same La Source corner.
Grosjean was fined and handed a one-race ban as a result.