Nasty but nice: murderball rivals are friends off court
IN THE world of Murderball, Kylie Grimes is not quite a one of a kind, but there are not too many like her, especially at the international level.

Great Britain player Grimes is among only two women who will be playing in the wheelchair rugby at the London Paralympic Games - the other is Belgium's Bieke Ketelbuters.
Grimes was given a tough initiation when the Brits went down 56-44 to the US in the opening game of the competition. In a hard, aggressive game, full of hits and sledging, the US, which is the the world and Paralympics champion, had too much experience for Great Britain, using its group of mid-pointers to continually launch breakaway scores.

Grimes, who is classified as a 0.5 point player or a low pointer, meaning her movement is more restricted than other players, came onto the court late in the game to a roar from the packed stadium.

"The crowd were brilliant, absolutely brilliant. Even when we were a few goals down, they kept us going all the way to the end and that's what we needed," Grimes said.

Wheelchair rugby is a tough, crash and bash sport, which was initially designed for people who had spinal damage and did not have enough arm and hand movement to player wheelchair basketball.

But as the sport has grown in popularity and professionalism, it has attracted players with a range of disabilities. And the hits have become harder and the action faster making it one of the most anticipated sports of the Games, with fans waiting until the fifth last day of the Games for the opening games.

Grimes, who broke her neck when she dove into a swimming pool during a party at a friend's house, said she welcomed the hard contact from the men.

"They (men) are exactly the same (towards) and that's the way it should be really. If I'm playing the sport I don't want to be treated any differently," she said.

Teammate David Anthony said there had been a fair bit of "friendly banter" going on between the teams during the tough tussle where Britain started strongly but the Americans always seemed to have the upper hand.

"Off the court we're friends again, so what ever happens on court stays on court," Anthony said.

"That was a rough game. There's always that competition against No.1 in the world and we were more than up for that today."

Great britain's Aaron Phipps dismissed suggestions that things could have been getting out of control with players seen shouting at each other at times.

Phipps said "it's very much like able-bodied rugby. It's a gentleman's game off the pitch ... it doesn't spill over - we're all friends when the game's over."

"There was a little bit of (sledging) but I'm not going to tell you what. But it's all good."

"... What were we actually shouting at each other? You just try to get one up on the other team so nothing in particular. Nothing nasty. It's just part of the game."

Meanwhile, American team member Will Groulx said Australia, which won the silver behind the Americans in 2008 and at the 2010 world championships, were a tactically more varied and dangerous team that it had been in the past.

"They're a strong strong team ... and we imagine that we're going to see them at some point in this tournament," Groulx said

He said Australia was not too reliant on its high-pointer Ryley Batt, who is regarded as the best player in the world.

"He's a very dominant player but we have a great team as well and that's the best part of this game it's a team sport," Groulx said.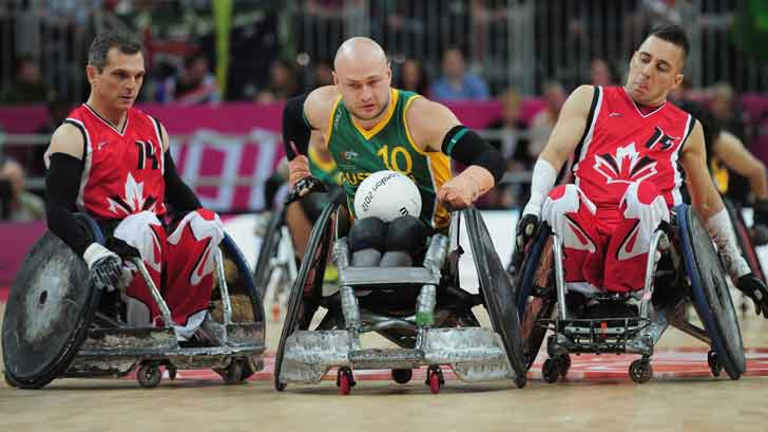 "You can't rely on any one player to win, and we've got phenomenal team of a lot of great athletes that work together as a team."

"They (Australia) are a fantastic team and they've got a lot of new great talent that's on that team as well. They bring a lot of different looks. They've been a little one dimensional in the past but now they have multiple different looks they can throw at different teams.
"Obviously they're strong and they're going to be contenders."