Very important win for the Swifts. Green making an awful lot of difference again from WA; Pratley shooting beautifully and Mkoloma did enough to keep Aiken from winning the game. Lisa Beehag true to her word will not let her side play predictably and her changes are allowing her side to control the game.
Chelsea Pitman will have scans tomorrow and we will know the extent of her knee injury then. Overall, not a good day for the Firebirds.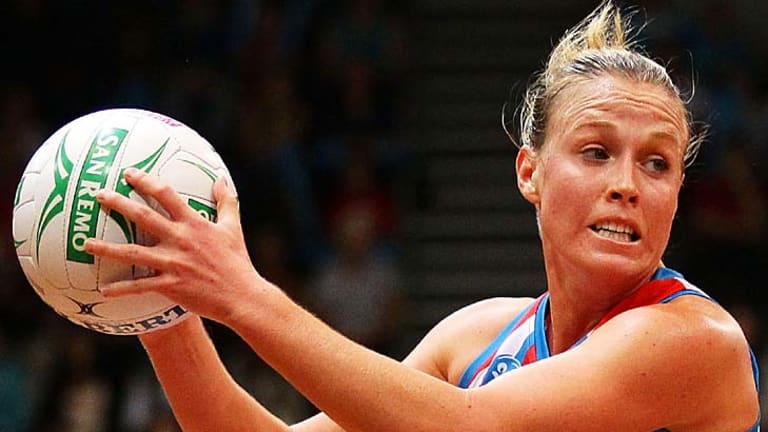 That's it from me. I'll hand over to Phil Lutton who will go live shortly with the A-League grand final between the Brisbane Roar and Perth Glory.
Thank you for joining me.
Pratley: We just had to keep fighting. There were a few bodies flying around. Just happy to get the win. We have got some things to build on.
FULLTIME Swifts win 54-49 in front of a full house. Pratley held her nerve in that last quarter to finish with 30/34. Aiken 30/39
Q4 14min
Q4 13 min Pratley nice rebound after getting a bump from Steel; Mkoloma big intercept; lots of desperate stuff out there now.
Q4 11 min Firebirds get three in a row to get to within two goals but Dziwoki passes off to Pratley to get lead back to three. Swifts 49-46
Q4 10 min Green plenty to say in the injury time huddle.. Geitz out to GD in bid to get Firebirds back in the game. Aiken gets one back. Swifts 48-44
Q4 8 min Massive intercept from Green, then intercept from Gerrard and Swifts maintain 5 goal lead 48-43
Q4: 7 min Pratley puts Swifts 5 up; hard to come back from here for the premiers. Swifts 47-42
Q4 5 Min Swifts hanging in there, but Firebirds desperate to win the turnovers. Swifts ahead 45-42
THREE QUARTER TIME: Aiken denied on the bell. Swifts 41-37, Mkoloma and Dziwoki really firing up that quarter; and moving Green to WA has again proved fruitful for the Swifts at the centre pass. Pratley 21/24; Aiken 22/29. Swifts on target to keep Aiken under 40 shots and that is a position from which they can win. So long as they don't let Medhurst get away. Great game.
Q3 14 min Dziwoki has really lifted as has Swifts' defence. Swifts 39-37
Q3 12 min Another for Pratley (her 20th) and 37-37 again
Q3 10min Despite huge rebound from Geitz Firebirds turn it over and Pratley levels scores again 35-35. She has 18/19
Q3 8 min Aiken meantime getting annoyed with Mkoloma in her face. 32-32
Q3 5min Dziwoki back to back goals and Swifts have scored eight of the last 10. She's fired up now.
Q3 4 min Wild pass from Sutton creates turnover though Dziwoki looks for the free. Firebirds 30-29
Q3 2 mins: Trompf back on; Green to WA; Ware to C; Sutton on at WD. And the move to WA with Green works again, Swifts level 28-28
Dom Bossi reports from the court: In the lead up to this game the Swifts outlined their plan to unravel the champions through their fast pace attack and true to their word, they've managed to outclass the firebirds with their speed. However, as we saw in the second qurter, their high-tempo game can not be maintained over the course of the 60-minutes. As fatigue crept in, the errors compounded and the Swifts were soon on the back foot. Last week they found themselves in a similar position at the half way mark and if Lisa Beehag can again inject life back into her team, they could regain the lead. With the Firebirds Natalie Medhurst enjoying a lot of free time and space late in the second quarter, we can expect Jo Sutton to come on for Samantha May at wing defence.

Don't be afraid to log in and leave a comment. You do not need to disclose personal information to do so, just demographic info. Can the Swifts come back or are the premiers just too good? Main news so far is what looks like an awful knee injury to the Firebirds' Australian WA Chelsea Pitman. Pitman did her ACL two years ago - same knee. Better news is Macleod looks to have overcome a twist of her ankle quite quickly.
HALFTIME Firebirds 28-25. Good quarter from the visitors. Medhurst definitely having more influence. Firebirds captain Nourse says: ''Pretty physical out there. Happy to go into halftime with a lead.'' Pratley 13/14 Aiken 15/18
Q2 Q2 13 min Not sure how much I like Pratley flying out of the circle to help with working it in. But nevertheless gets back to get the goal. Firebirds 25-24
Q2 10 min 10-4 the obstruction count against the Swifts, certainly reflects how hard they are trying to stick with their opponents. But Firebirds becoming a bit smoother moving the ball down the court and lead 24-21
Q2 Macleod has her ankle strapped and she's back up. Dziwoki on for Wild. Good intercept from Gerrard but Pratley has her first miss and it remains Firebirds 20-19
Q2 6 min: Now Firebirds' Elissa Macleod down after a minor collision with Kim Green. Looks like an ankle. Firebirds 20-19
Q2 5 min Eagland replaces Trompf; Medhurst picking it up for Firebirds. Defenders continuing to work hard to try to deny Aiken but Firebirds now in front 19-18
QUARTER TIME: Swifts 15-12. Pratley the best shooter so far with 8/8, though Wild doing very well in her first start for the year with 7/9. At the other end Aiken proving a real handful for Mkoloma and Gerrard but she has had only 8 shots, and that's manageable.
Q1 12 min Turnover-fest continues with tight defence by both sides forcing a few wild passes still. 10-10. Pitman now with ice on her knee, unlikely to return to this game.
Q1 9min Mkoloma doing well on Aiken, forcing Firebirds to pass high - too high sometimes. Swifts 9-8
Q1 6min Beehag happy with the start. ''Amy is a good match up on Steel,'' she says explaining Wild's promotion today. Pitman on the sideline in tears. Swifts 6-5
Q1 4 min Firebirds WA Chelsea Pitman has taken a tumble and is clutching her knee.
Q1 3min A few wild passes from both teams, having to work hard for their goals Swifts 4-3.
Q1 Swifts up 2-1 early despite a turnover, Pratley with both.

PREMATCH: Here are the starting sevens.
Swifts: GS Pratley; GA Wild; WA Ware; C Green; WD May; GD Gerrard; GK Mkoloma.
Firebirds: GA Aiken; GA Medhurst; WA Pitman; C Nourse; WD Trompf; GD Steel; GK Geitz.
True to her word, Swifts coach Lisa Beehag has gone all unpredictable on us. The big surprise is Amy Wild getting the start at GA ahead of Carla Dziwoki, who has had a very good start to the season. Sam May gets the start at WD ahead of Jo Sutton this time; and Green is back at C and Ware at WA.
In the early match today the Melbourne Vixens pulled off a remarkable comeback win 40-39 against the Waikato BOP Magic. Magic remain winless at the bottom of the table.
Why should the blokes have all the fun? Good afternoon and welcome to our very first live netball blog, and indeed my first live blog.
It's another full house at the Sydney Olympic Park Sports Centre as the NSW Swifts host the Queensland Firebirds. Both teams have a 1-2 start to the season and will be keen to get their campaigns on an even footing today.
I'm looking forward to the battles at either end - Sonia Mkoloma (Swifts GK) against Romelda Aiken (Firebirds GS) and Laura Geitz (Firebirds GK) v Susan Pratley (Swifts GS). Aiken had 48 shots last week. If the Swifts want to win they will need to keep that number well under 40.
The 196cm Jamaican Aiken already has 100 goals this season (101) at 80 per cent. Pratley has 72 at 84 per cent. The Swifts will look to cut off supply to Aiken, though GD Mo'onia Gerrard will have her hands full slowing up Natalie Medhurst.
In the middle, the Swifts will aim to get away their centre passes effectively. The move of Kimberlee Green to wing attack in last Monday's win over the WBOP Magic was a masterstroke by Swifts coach Lisa Beehag.
I'll have the starting sevens shortly.
Join Kathryn Wicks from 2pm as the NSW Swifts host the Queensland Firebirds, with both sides attempting to put their early season wobbles behind them.

Kathryn Wicks is the SMH Deputy Editor | Digital Editor. She is a former state editor and deputy sports editor. She is the co-author of the second edition of the Australian Autism Handbook.
Morning & Afternoon Newsletter
Delivered Mon–Fri.