Next stop Stockholm for Alloway
Having shown off his knock-out power in his UFC debut Benny Blanco Alloway is heading to Sweden for his first fight in the Octagon on foreign soil.
The Coolangatta local is due to fight undefeated American Ryan Laflare in front of a 15,000 strong crowd in one of 13 scheduled matches at the Ericcson Globe arena in Stockholm on April 6.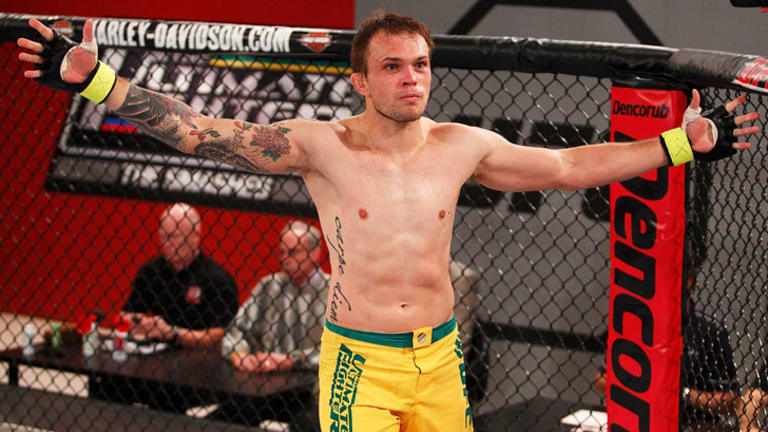 Since beginning to fight competitively in February 2010, Alloway has gone on to earn himself a 13-3 win/loss record, including his dramatic front kick knockout of Manuel Rodriguez during his first trip to the Octagon on the Gold Coast in December.
Having starred on reality show The Ultimate Fighter: The Smashes Alloway says he isn't worried about facing an undefeated fighter.
''He's undefeated and you've got to respect that,'' says Alloway.
''He's a good fighter and he's in the UFC but we're pretty confident that we're going to do quite well.''
Alloway, a former Gold Coast soccer player and nightclub manager, only got into the sport when recovering from a soccer injury, practising jiu-jitsu and sparring as a way to lose weight.
From there he fell in love with MMA and has subsequently travelled back and forth between Australia and the US in pursuit of a UFC contract.
Having reached the semi finals of The Ultimate Fighter: The Smashes and made MMA headlines with his dramatic knockout of Rodriguez Alloway scored a UFC contract to fight wherever the organisation chooses.
''Wherever they (UFC) match me to fight, that's where I'll travel to'' says Alloway.
''So now it's Sweden, but in a couple of months it could be Vegas or just about anywhere.''Australian viewers can watch the action and cheer on Benny via Fuel TV on Foxtel.