NFL gun lament slammed as 'vacuous dreck'
As Americans reel from more high-profile gun deaths - this time NFL player Jovan Belcher and his girlfriend - some who advocate tougher gun control laws are being howled down.
Belcher, 25, a linebacker for the Kansas City Chiefs, killed girlfriend Kassandra Perkins, 22, at home on Saturday, then drove to his home stadium, where he killed himself as coaches pleaded with him not to pull the trigger.
The father of a three-month-old daughter, Belcher's suicide was witnessed by a coach and other team staff.
In the wake of the shocking incident, discussion has again turned to the nation's gun control laws.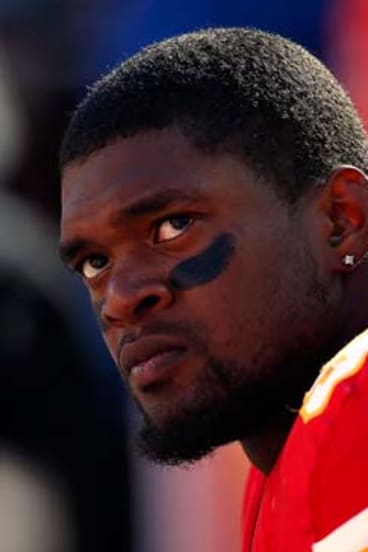 NBC football anchor Bob Costas has drawn scorn for his 90-second editorial during the half-time break of a Sunday night football broadcast, in which he advocated for tougher controls.
At times quoting a Fox Sports columnist with whom he agreed, Costas described the incident as "almost unfathomable".
"In the coming days, Jovan Belcher's actions and their possible connection to football will be analysed. Who knows? But here, wrote Jason Whitlock, is what I believe. If Jovan Belcher didn't possess a gun, he and Kassandra Perkins would both be alive today," Costas said.
Whitlock's original column also added that with America's present gun culture, "more and more domestic disputes will end in the ultimate tragedy, and that more convenience store confrontations over loud music coming from a car will leave more teenage boys bloodied and dead. Handguns do not enhance our safety".
But the broadcaster, 50, has been condemned online for choosing "the wrong place and the wrong time" to voice his views.
Herman Cain, a Republican who pushed for the party's 2012 presidential nomination but lost out, tweeted: "You tune in for a football game and end up listening to Bob Costas spewing sanctimonious dreck."
Dan Calabrese, a columnist for Cain's CainTV website, described Costas as "an idiot" and said that meant he should "shut up".
"This [is] about as idiotic a span of a minute and 32 seconds as you're ever going to hear," Calabrese wrote. "Bob Costas has a real gift when it comes to talking about sports, especially baseball. When it comes to talking about culture and public policy, he reveals himself to be an utter buffoon who just needs to shut his mouth and spare the rest of us the torment of listening to his ill-informed, intellectually vacuous dreck."
Republican strategist Ted Newton said the NBC network should be ashamed for the "embarrassing anti-gun screed".
YouTube clips of Costas' segment have largely been rated negatively and debate is raging across social media.
Fellow broadcasters have also criticised Costas' approach.
Said Fox News anchor Brian Kilmeade: "I just don't know if it's appropriate enough on a Sunday night, less than 24 hours after the guy took his own life and killed his girlfriend and the mother of his baby, to make that stance ... I don't really think we needed to hear that last night."
Sports talk show host John Kincade tweeted: "I will gladly debate Jason Whitlock and Bob Costas on gun control, BUT we tuned in for an NFL game! Ridiculous programming decision!"
Football columnist Audrey Snyder also criticised Costas, tweeting: "That Costas rant there was umm interesting. Let's focus on mental health and not just gun control. Can't strictly blame one or the other."
And rock musician Ted Nugent also slammed Costas. "We all kno that obesity is a direct result of the proliferation of spoons & forks Get a clue [sic]," he tweeted.
Support is available for anyone who may be distressed by phoning Lifeline 13 11 14, Mensline 1300 789 978 or Kids Helpline 1800 551 800.

Adrian Lowe is Domain's news editor. Before Domain, Adrian was at The Age: as night news editor, AM homepage producer, breaking news reporter and court reporter.
Morning & Afternoon Newsletter
Delivered Mon–Fri.