No chance of pairing boxing's father and son, Kali and Willis Meehan, in ultimate family bout
Kali and Willis Meehan created history of sorts by becoming a father-and-son combination ranked in Australia's top 12 heavyweight fighters, but promoters, be warned, you'll be wasting time trying to tempt the pair to engage in what would be billed boxing's ultimate family feud.
Kali, 44, was ranked in the Australian National Boxing Federation's December ratings as the nation's third best heavyweight while 19-year-old Willis, who is playing league for the Sydney Roosters, was 11th.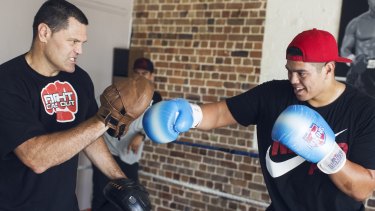 Kali, who many believe was robbed of the WBO heavyweight champion's crown when he fought Lamond Brewster for Don King in 2004, shook his head at the notion of ever punching-on against his "little" boy.
"At the end of the day boxing is a sport and a livelihood whereas family is family," Kali said. "You couldn't do it. I do enjoy sparring with my son. It's very hard sparring, we push one another and it is very competitive.
"Occasionally we land a hard punch and we stop and laugh, but to actually fight someone you need that killer instinct, you have to want to hurt someone and I couldn't do that to my son and he wouldn't me. I could fight a friend, no dramas at all. But family ... family is sacred."
Kali, who won $200,000 when he defeated Shane Cameron in the Super Eight Last Man Standing contest in New Zealand in June, is enjoying a revival in boxing and there were suggestions he was being lined up for a fight in Auckland but he said everything revolved around Willis.
"I know the game very well and he can do it all: he can fight southpaw, he can fight orthodox, he has very fast hands and very heavy hands," he said. "He can read fights very well ... he's got it all. He's at home with whoever he gets into the ring with."
While Willis is on the cusp of forging a first-grade career with the Roosters, Kali said it would be his son's call on whether he focused on footy or fighting.
"When he was little it was his dream to be the world heavyweight champion," he said.
"I'll talk to him about boxing but in terms of rugby league I was the greatest prop never discovered. I made the Pacific Cup for one of the Fijian teams and I made the Central Coast representative team. I used to give Willis advice on rugby league but I can't now, he's exceeded me.
"I just want to keep him grounded. Being 19 and having the world at his feet he needs to be ready for what comes with it ... girls, the jealousy ... he needs to realise he's been blessed and that he's also worked very hard."
Roosters hardman Jared Waerea-Hargraves said Willis had a huge future and he'd be unstoppable once he got to star in first grade. "He's a talent-and-a-half, that kid," he said. "The sky is the limit for him. He's enormous, and once he starts to believe in himself, really believe, he'll be something special."
Smooth as Silk
Sydney Sixers' youngster Jordan Silk has a genuine heavyweight of a fan in Viv Richards, who was left buzzing by his spectacular diving catch at the SCG on Thursday night to dismiss Sydney Thunder batsman Chris Green off Sean Abbott's bowling. Silk dived full length to take the ball millimetres before it hit the ground. "No one else would have got to that," Richards enthused from his quiet corner in the press box. "There's not a better person on the field to get that." Last season Richards decreed Silk's effort to take a screamer off Brisbane Heat's Craig Kieswetter the best he'd ever seen. He didn't repeat that claim last Thursday but clearly, he's watching the boy with Penrith with great interest. Silk, who is blossoming into a talent, recently said he'd been working hard on improving his throwing arm and accuracy after being ribbed by his teammates but few can match his exploits in the outfield ... just ask Viv.
Mat hot property
Socceroos goalkeeper Mat Ryan has had a battalion of family and friends – and perhaps one or two Liverpool talent scouts – following him around Australia to support him in the Asian Cup but it's highly unlikely the 22-year-old, who was born and bred in Sydney's western suburbs, will hang out with them after the campaign finishes. His manager at Club Brugge, Michel Preud'homme, regarded during his playing days as one of the world's best goalies, gave the Aussie (who was recently named the Belgian competition's keeper of the year) one clear and concise order: "Get your arse back here straight away."
Wing flew away
South Sydney winger Alex Johnston, who is being groomed for NRL superstardom, possessed all the traits required to be a top-class cricketer and his unconquered 229 for the La Perouse under-14s against East Thunder in the South East Junior Cricket Association in 2009 tells the story of cricket's one who got away. Johnston, who represented the Kangaroos in last year's Four Nation's tournament, was a talented opener and indigenous cricket official Peter Cooley provided a frank assessment of his ability. "He could've been anything. I've watched a lot of talented players in Sydney's first grade competition and for someone who never had coaching Alex had all the skills ... Steve Waugh-like cover drives and all. I even said to him one day if he wanted to make something of cricket we would put him through the right channels." However, after watching the 20-year-old win a premiers ring and get picked for the Kangaroos last year, even Cooley agreed Johnston made the right career choice.
Announcer back
Former ABC commentator David Morrow, who signed off after 34years at Aunty at the end of the last NRL season will be back behind the microphone this season and calling Friday night and Saturday afternoon matches for Radio 2GB. The deal was said to be all but finalised after the popular Andrew Moore resigned from the network to join the national broadcaster.
Waters battling
Troy Waters, the pin-up boy of Australian boxing in the 1980s and '90s, is recovering from the recent stem cell donation he received from his oldest brother, Dean, to help his immune system in his battle with acute myeloid leukaemia. The 49-year-old father of two has fought the illness courageously and defied the specialists who thought he mightn't survive his first intense chemotherapy treatment to KO the army of immature white blood cells that clogged his bone marrow and compromised his immune system. "I'm still punching," he said of his progress. He's home after a stint in St Vincent's Hospital and was looking forward to watching his son Nate play in the opening round of the Central Coast soccer competition next weekend.
Lehmann livid
Expect one thing when Australia play Sri Lanka in their World Cup match at the Sydney Cricket Ground on March 8: the pitch will play a lot differently to the way it did when the Aussies played England in their recent one-day international. Word is national coach Darren Lehmann was livid with the fact it was a slow-turner and would definitely have favoured Sri Lanka.
Close to award
Sydney Thunder's Josh Lalor, who took 4-29 in Thursday's epic Big Bash League derby against the Sixers was headed for man of the match after taking four wickets ... until the final over, when Jordan Silk and Stephen O'Keefe combined to win the unwinnable game. The award was presented to Silk, who hit five sixes in his 69. Lalor was consoled by Brett Lee, who played his last game at the SCG. "He bowled so well, to have 4-4 at one stage and be [hit] at the death ... that's Twenty20." Lee had a who's who to cheer him on, including his family, manager Neil Maxwell, broadcaster Alan Jones and NSW Premier Michael Baird.
Haddin works it
If you want to know why Brad Haddin can take classic catches or stand up to the barrage of bouncers the Indian pace attack rained down on him, it boils down to his work ethic. The Australian wicketkeeper was with his personal trainer Christian Marchegiani just 48 hours after the fourth Test against India at the SCG. According to Marchegiani, Haddin typically trains when others choose to snooze and his focus is on being ready to rumble come the World Cup. "His cricket conditioning is superb," said Marchegiani. "We've worked on some specific high-performance drills as well as building his strength to take into the World Cup. Brad says he wants to be fully fit and strong for the tournament and will do whatever it takes. I'm amazed at his grit and determination. If he's injured or in pain you'd never know because he gives nothing away."
Daniel Lane is a sports reporter and video journalist with Fairfax Media.