TERRY CAMPESE was standing towards the back of his home team change room, but not really knowing yet exactly where he stood.
The Canberra Raiders were down 10-4 to the New Zealand Warriors at half-time and the starting captain, David Shillington, was nursing busted ribs and would not be back.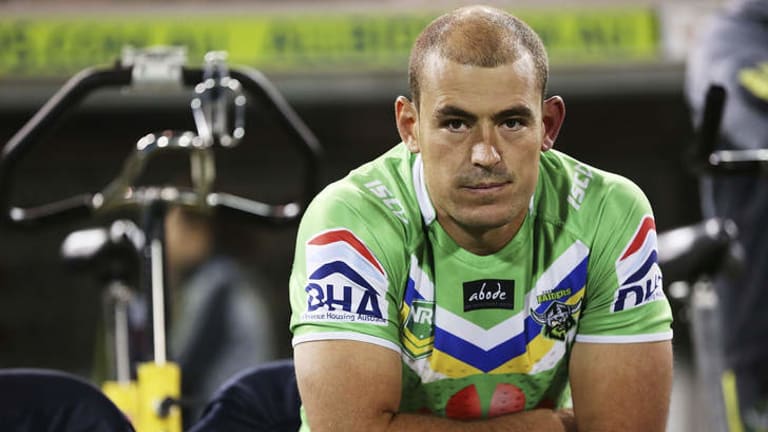 As Raiders players assembled for the second half, Campese, having just come off the bench to play his first 10 minutes of footy in a year, waited nervously in line. Then came the united call from his teammates.
''C'mon, Campo','' they yelled, ushering the 28-year-old to the front of the pack to lead them back out on to the field.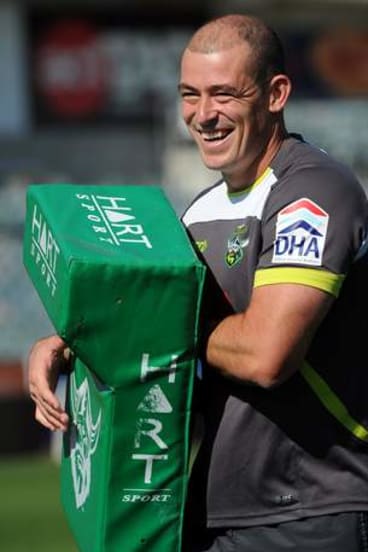 ''I knew when the boys wanted me there, I'd put my hand up straight away.''
Campese concedes he was ''a bit lost'' when he made his comeback to the NRL last Saturday. He was still searching for his place.
It's understandable, given it had been exactly a year since his left knee buckled beneath him while playing in Brisbane.
The same knee had buckled before, adding to the injuries that have restricted him to playing just eight of Canberra's previous 55 NRL matches.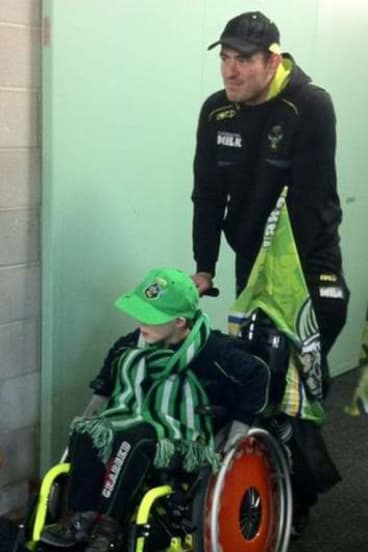 But leadership? Well, that comes easy to Campese.
So, in that second half, as the Raiders came back, so did Campo. He tackled. He ran. He took on the line. He broke through it. He kicked.
And, from one of those kicks, with four minutes left on the clock, came the match-winning try to winger Edrick Lee.
Comeback complete.
''It was unbelievable to put the green jumper back on and be back out on the field again, but to lead the boys out in the second half was something I treasure a lot,'' Campese says.
''You're always happy when the team wins, but just to be part of it again … well, it's great, to be honest.
''To have that feeling when we went in to the sheds on Saturday night was a massive relief. It feels like it's been forever. To get through the game injury-free and to sing that team [victory] song, I don't think there's too many better feelings.''
But there is much more to life, as Campese found in the two years he was lost from football.
When he first ruptured his knee in 2010, his first daughter was a week old. He now has a son, too.
T o help fill the void left by rugby league, he began the Terry Campese Foundation.
Already an ambassador for the Ronald McDonald House, Canteen and Raising Hope, Campese, who has lived in Queanbeyan his entire life, wanted to do something on his own, for local people in need.
The foundation has raised more than $65,000.
When Campese ever has a bad day, inspiration is close.
The first person his foundation helped was a Queanbeyan boy, Bailey Whitton.
He was born with cerebral palsy, epilepsy and Tourette syndrome and an initial diagnosis gave him little chance of survival. Bailey is soon to turn seven and is now in grade 1 at school.
''Terry is their idol,'' Bailey's mother, Tracy, says of her five children.
''Terry took them to a Raiders game - my kids were dumbstruck. He treated them like VIPs.''
Campese says: ''There's no time to feel sorry for yourself or get down, there's always people worse off than you.
''It puts life in perspective - live each day as it comes and be as happy as you can because who knows when it will be over.
''Young Bailey, he has had a tough life. We helped out with getting him a wheelchair, that was our first little project [for the foundation]. He's a little Raiders fan, which is great to be able to help out.
''I'm in a privileged position and that can only last for a number of years, so I can do something now.''
Campese was raised by his single mother, Lisa. He sought her out in the crowd last Saturday night, after the win, for a kiss.
Two days before his comeback game, she had baked him lasagne, as she does before every match.
''She's never missed a week,'' Campese says.
Campese has recently taken over ownership of the Crust Gourmet Pizza franchise in Belconnen, preparing for life after football. There is an Italian theme here.
Campese, along with Raiders teammates Shaun Berrigan and Paul Vaughan, are eligible to play for Italy at this year's World Cup.
Having represented Australia at the last World Cup, in 2008, Campese says it would be an honour to represent the heritage of his grandfather, Tony Campese, who died last year.
''It would bring back some memories,'' Campese says.
''He left Italy when he was 17, he came straight to Queanbeyan and that's where he met my nan and raised a family and they lived there ever since, in the same street, all their lives.
''It would be something special, representing the country where my pop was born and all his family still live there.
''It's still too far away to make a final decision. I've just got to focus on each game at the Raiders and stay on the field as long as possible and then assess it later.''
Campese is in no rush to re-establish himself in the starting team, claiming he will do what's best for the club. He is not seeking to be formally reappointed Raiders captain. He doesn't need the ego boost. His goal is simple: he just wants to play again.
''I never want to be a burden on the team, I just want to get out there and do as much as possible. I can't hold back,'' Campese says.
''I've still got two years to run on my contract here at the Raiders, I want to fulfil that as best I can. Hopefully this year and next year we're one of the biggest forces in the NRL and re-establishing ourselves as the club we were in the '90s.''

Chris Wilson is the sports editor at The Canberra Times.
Morning & Afternoon Newsletter
Delivered Mon–Fri.