DOWNCAST Canberra superstar Josh Dugan last night said he had no alternative but to remain positive after seriously injuring an ankle in the heavy loss to North Queensland.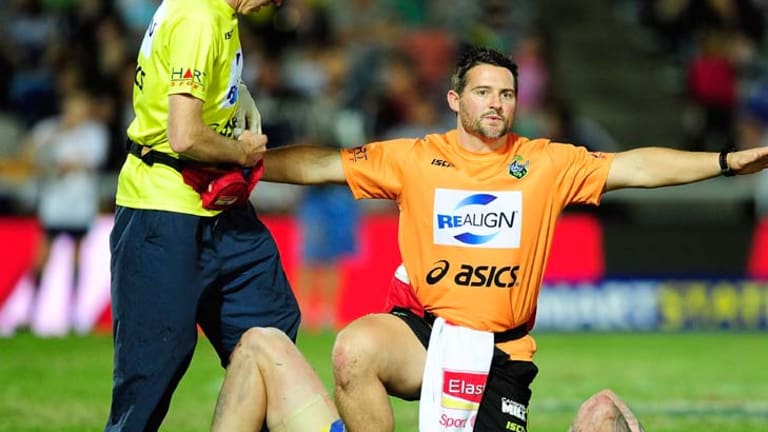 For 30 Raiders sponsors who travelled 2180 kilometres to see the 40-18 defeat, however, the temptation to be negative must have been powerful.
Dugan was given morphine on the spot after suffering the injury near full-time at Dairy Farmers Stadium. He was diagnosed with syndesmosis - or a sprain - of the left ankle with a likely recovery time of six to eight weeks. Scans will check for a fracture.
Trevor Thurling (shoulder) and Joel Thompson (broken left hand) joined Dugan on a casualty list that already includes season-ending injuries to captain Terry Campese and representative prop Brett White (both knees).
''I just got kind of caught in a tackle, my legs got swept from behind and my ankle got caught underneath me,'' Dugan said. ''It's pretty early to tell. I'm trying to keep optimistic about it, try to keep the swelling down tonight and tomorrow go to Canberra to get scans. I think we've just got to try and keep our heads up and do whatever it takes to get back on the field.''
Captain David Shillington admitted the chorus of men in green going off injured this season had been a depressing sight as the Raiders languish near the bottom of the table.
''There's no luck coming our way with injuries,'' he said. ''Missing Campo and Whitey has been a huge blow to us all year. Campo, he's been our main play-maker and director there. We're missing Whitey in defence as well. Hopefully Duges is not out for the rest of the season because I still think we can have a good run.
''Obviously a few of the boys are down on confidence. We'll try to train that confidence into ourselves.''
Two weeks ago, Raiders sponsors Canberra Milk expressed concerns about the club, saying they wanted to know what the administration's plans were. Last night represented the annual Raiders trip away for sponsors - they haven't won that game since Super League.
Last night's match was also marred by contentious refereeing decisions, not least when video official Pat Reynolds gave Cowboys winger Ashley Graham a seventh-minute try on a benefit-of-the-doubt ruling when he looked to have dropped the ball.
''That was the benefit of a very large doubt,'' Cowboys coach Neil Henry. ''We'll take that one.''
The match was played in the shadow of the death of North Queensland co-captain Matt Scott's mother from cancer. ''His mother would be proud - she has raised three fine boys,'' said the other Cowboys skipper, Johnathan Thurston, who finished the match with ice on a knee injury but is in no doubt for Origin III.
The Cowboys continued to push the claims of fullback Matt Bowen - outstanding again last night - for Billy Slater's supposedly vacant Queensland No.1 shirt.
Shillington, meanwhile, conceded: ''That was my worst start [to a match] for the year. I'm disappointed with that.''
NORTH QUEENSLAND 40 (G Hall 2 S Bolton A Graham K Linnett R Thompson A Winterstein tries J Thurston 5 M Bowen goals) bt RAIDERS 18 (J Croker J Dugan B Ferguson tries J Croker 3 goals) at Dairy Farmers Stadium. Referee: Alan Shortall, Brett Suttor. Crowd: 14,344.
Morning & Afternoon Newsletter
Delivered Mon–Fri.