Anzac Day has taken on many meanings and forms over the years, including its modern-day reincarnation of something as inconsequential but also entirely significant as a game of footy.
It means different things to different people, but for NRL chief executive Dave Smith it is a reason to reflect as much as any of us, because it reminds him of a time that is deeply personal.
Smith will this year march in the Anzac Day parade for the first time, having accepted an offer from NSW RSL president Don Rowe.
The Welshman served in the British Army for six years in the 1980s, protecting the royal family from the threat of IRA terrorism.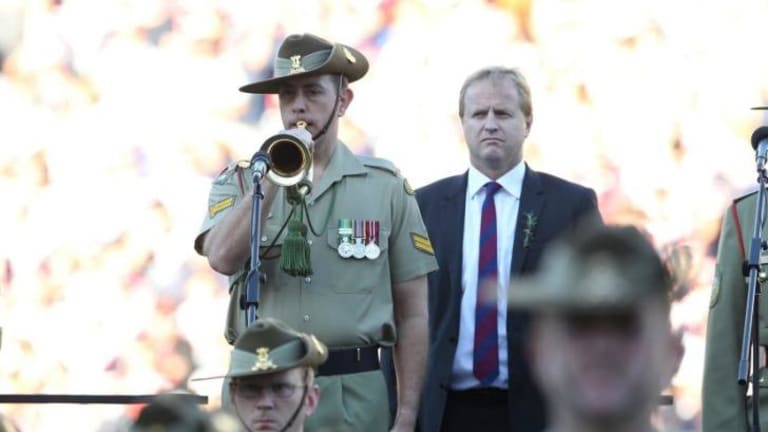 "It's a bit sensitive to be honest," Smith said of marching for the first time. "I didn't want anybody to know about this. I'm certainly not doing it for publicity. Anzac Day is a big day for me, in terms of my history and my family.
"I served in the forces. I understand the commitment you give when you sign up. My brother fought in the Falklands War, over several campaigns. My dad was in the army for nearly 50 years. My grandfather fought in the Second World War. The army has been a big part of my life.
"When I hear the Last Post, it always has and always will send shivers down my spine. It's important to remember the sacrifices others have made. The sacrifice people have given over the years, and it is something we should never forget. I am very happy to be part of this day."
More than 40,000 fans will squeeze into Allianz Stadium to watch the Roosters and Dragons play – a match that has been a permanent fixture since 2002 – but it is the Last Post that Smith speaks of that will hit every one of us with a shot of emotion, usually in the throat or between the shoulder blades.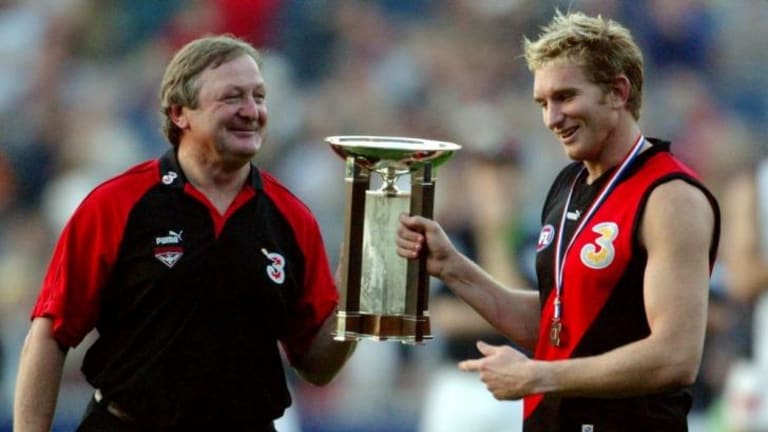 You're not human if it doesn't.
The tradition between the two Sydney teams strengthens with every season, much like the Anzac legend that refuses to fade with time.
"We never compare war to sport," offered former Dragons captain Ben Hornby, who played in as many Anzac Day matches as anyone. "But the attributes those servicemen and servicewomen showed on a daily basis is what we look for, as a team."
In the AFL, the annual Anzac Day match between Collingwood and Essendon has been played since 1995.
The concept popped into the head of former Bombers coach Kevin Sheedy as he potted around the garden, as he does.
Sheedy served two years of compulsory army service between 1969 and 1971. Having come to know the man in recent years, it's clear the only things that come before his footy code are his country and family.
"I'm always in the garden digging," Sheedy said this week on his way to a Collingwood function, his first of dozens of speaking engagements before the game. "I thought about times of my life when I played, and times of my life when I was in the army. I thought how I could bring together my playing experience and my time in the defence forces."
On Anzac Day 1977, Sheedy played for Richmond against Collingwood, in front of 84,000 at the MCG.
"They only went that day because [former Richmond coach] Tom Hafey was coaching for the first time against Richmond," he said. "That was about a person, not about Anzac Day. But I knew then that Anzac Day could be huge. You just needed people to have the passion. It was just about finding the right teams to do it."
That was Sheedy's Essendon, against Collingwood, on Tuesday, April 25, 1995.
Sheedy lobbied then RSL president Bruce Ruxton, who had opposed sporting events on Anzac Day but finally yielded.
There was no indication the day would be a success. Instead, the MCG filled so quickly that 17,000 had to be turned away by mounted police, and the official attendance was 94,825.
"That has never happened before in a home-and-away game," Sheedy said. "We never knew it was going to be that big."
Then he adds this: "It's not about the game. It's about the defence forces and those who have served, and still serve."
It's not about the game, but the match finished in a draw. Now, they game sells out six weeks in advance.
In the NRL, other matches have sprouted, with the Storm playing the Warriors and the Broncos hosting Souths after the Dragons beat, er, play the Roosters.
Meanwhile, rugby union debates whether it should play national anthems before the match between the Brumbies and the Chiefs at Canberra Stadium, because of a clause in the SANZAR operational handbook.
It's almost as offensive as it is absurd. You sense, though, they will come around eventually.
Hundreds of ADF personnel around the world will be watching NRL and AFL matches through various platforms. There would be some interested in Super Rugby, too.
Regardless of which code they support, a raised glass to them and those who have gone before, on the only day of the year when the footy really doesn't matter.
THE QUOTE
"Sorry To Scare My Friends, Family and Fans But I'm Straight! Thanks For The Love! #BlessUp." - Just to clarify, this tweet from West Indies fast bowler Kemar Roach was an assurance he was OK after rolling his BMW in wet conditions in Barbados.
THUMBS UP
The former boxer Rubin Carter was more than a Dylan song or a Denzel movie. Following his release from prison 19 years after he was wrongly imprisoned for a triple murder he didn't commit, he fought for others facing the same injustice, right up until his death from prostate cancer this week.
THUMBS DOWN
The sacking of David Moyes as Manchester United manager? Terrible. Players on telephone-number contracts don't suddenly lose their ability overnight. As Roy Keane said: "He should have been given more time but some of the players should be ashamed of themselves as they've really let Moyes down."
It's a big weekend for … the poor old punters staggering to the line for the final day of the Sydney Carnival, at Royal Randwick, where the All Aged Stakes and Champagne Stakes are the features. Where is the ATM? Someone?
It's an even bigger weekend for … Alex Leapai. If the former Brisbane truckie can beat Wladimir Klitschko in Germany, it will make Rocky's win over Ivan Drago in Rocky IV seem inconsequential, although arguably the equal of his win over Apollo Creed in Rocky II. Discuss.
Q&A: James McDonald
Having won the Queen Elizabeth Stakes on It's a Dundeel, the young Kiwi rider has Bennetta in the All Aged Stakes on the final day of the Sydney Carnival.
How did it feel to share the Nathan Berry Medal with his brother Tommy as the most successful jockey of The Championships?
It was pretty amazing. It was very tragic what happened. I couldn't have shared it with a better bloke in Tommy. It's never going to be easy for Tommy. It's a tough time. It's a tough time for everyone.
You're a proud Kiwi. Super Rugby team?
The Chiefs, for sure. We're not travelling that flash, to be honest. They've lost Aaron Cruden.
Imagine if you were a Blues fan. You could've been dealing with the loss of Benji Marshall.
That wouldn't have been a sad loss.
Ouch. How you feeling about the All Blacks this year?
I don't get too worried, because they dominate most years. I am not expecting too much different this year.
Much banter about in the jockey room?
Not really. The Aussies are more into their league and cricket.
Who does Pumper go for?
He'd be an All Black, for sure.
Looking forward to having Sonny Bill Williams back for the World Cup?
For sure. He was dominant when he was playing rugby. He won a title for the Chiefs. I'd love to see him in a sevens jersey. He'd be dominant, mate. Unstoppable.
Finally, tell us this story about getting pulled up by the cops in Centennial Park.
It was a day during that heatwave a few months ago. I was walking around with a black hoodie on, with sweat gear underneath. I had my earplugs in for a while so I couldn't hear them yelling at me. Then they got in front of me and got the lights going. They reckoned I looked suspicious and asked a few questions. I told them I was a jockey trying to lose weight. They asked me to keep off the main street because I looked so dodgy.

Chief Sports Writer, The Sydney Morning Herald
Morning & Afternoon Newsletter
Delivered Mon–Fri.