IN THE rugby league hardness stakes, Roy Asotasi won't be beaten by many; he's a combination of granite and gangsta rap lyrics. Which makes it so astonishing that in recent years Asotasi's body has broken down so often and so calamitously.
''Sometimes, you think 'why me?' But that's just football,'' the South Sydney prop said. ''Your body can only handle so much. All you've got to do is keep working and working, and hopefully there's a light at the end of the tunnel.''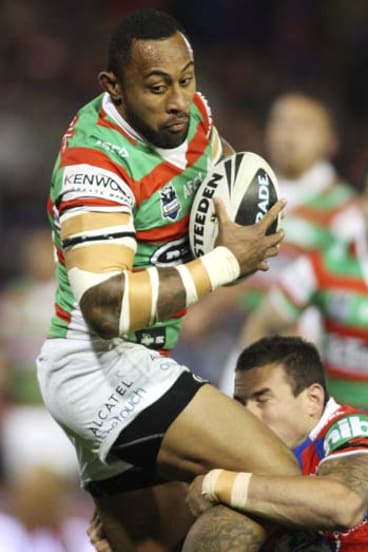 On Saturday night, Asotasi will find that light. He'll see it walking down the players' race at ANZ Stadium, with perhaps 70,000 people the soundtrack. Having returned to the Rabbitohs' squad in time to lead the pack in Saturday night's semi-final victory over Canberra following this year's serious injury - pectoral-muscle damage - he will find himself in a preliminary final.
''It's hard because they're not little injuries,'' Asotasi said of his recent battles. ''They're long-term injuries and I've constantly been working with the medical staff.
''All you can do is focus on what you can control and that's doing all the treatment, all the rehab, all the physio, and trying to get myself back as quick as possible.
''I've been frustrated for the last three or four years. That's football. I had a good run through the start of my career, but the second stage of it has been up and down - basically down. That's why I'm just enjoying my football right now.''
His team's opponent this Saturday night, the Bulldogs, is not only the side he suffered his pec injury against - attempting a tackle on fellow front-rower Aiden Tolman in round six - but it is also Asotasi's former club - in what feels to him like a former life.
Not one player remains at the Bulldogs from his final season there, 2006. ''It was a long time ago,'' he said. ''I've been red and green since 2007. It's all about trying to get this team to the next level. That starts with the Bulldogs.''
The players might have changed but Asotasi is certain that some things will remain at the club; the culture that breeds success so consistently. The Bulldogs' last grand-final win came in 2004, when Asotasi played off the bench to help the side topple the Sydney Roosters. Given what he has been through to play against the Bulldogs on Saturday night, it is clear Asotasi is approaching success differently now.
''They were enjoyable times,'' he said. ''I was pretty young back then and I think I took a lot of stuff for granted. I'm a bit more mature now - it's about enjoying every moment.
''Now I'm at the stage of my career where it's not easy; you've got to work hard and you've got to have a special squad. I feel like that's something we've got here.''

Glenn Jackson is a Rugby League Writer for The Sydney Morning Herald
Morning & Afternoon Newsletter
Delivered Mon–Fri.