At a stage of their careers when most athletes know their roles inside-out and back-to-front, Kurt Gidley is returning to square one.
After 197 NRL games, 12 Tests and 12 Origins for NSW, the Newcastle Knights skipper is established as one of the game's most experienced campaigners.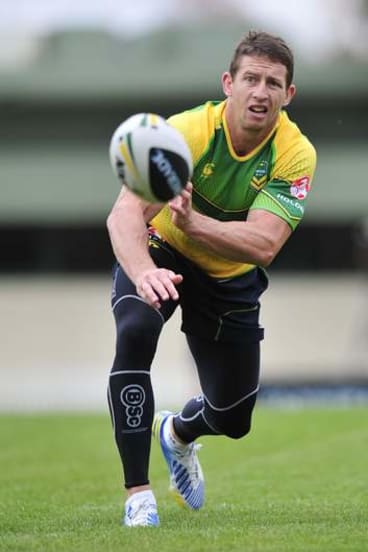 But the 30-year-old has no qualms about admitting that when it comes to playing hooker, he is still an L-plater.
Gidley, the game's premier utility player, has spent the past three games as rake after champion Danny Buderus was sidelined indefinitely with a recurring back injury that required a second bout of surgery.
Given that Buderus is set to hang up his boots at season's end – if indeed his battered body lasts that long – then Gidley could well become a permanent fixture at dummy-half for the rest of his career.
While the prospect of learning a whole new trade at such a late juncture might be unsettling to some players, for Gidley it must evoke a sense of deja vu.
After making his top-grade debut as a five-eighth with a lone game in 2001, he has forged a nomadic existence ever since.
Wherever he plays, Gidley never seems to put a foot wrong.
In 2002, his first full season in first grade, he started as a bench-warmer, had a game at centre, switched to pivot and finished the year as fullback.
He spent the next few years playing alongside Andrew Johns at pivot, or filling in at first receiver whenever Johns was unavailable.
In 2007, he moved to fullback and appeared to have finally found himself a permanent home.
But the arrival of Darius Boyd last season changed all that.
After Wayne Bennett took the reins, Gidley started at five-eighth before switching to halfback, where the coach hoped he would form a long-term partnership with Jarrod Mullen.
But the impressive form of young playmaker Tyrone Roberts, combined with Buderus's injury, prompted Bennett to scrap Plan A.
Now Gidley is preparing himself for a new challenge.
While he has played his share of cameos as a bench hooker in representative teams, at club level his experience at dummy-half extends to just five games.
Hence, while he says "it's not a big deal wherever I play in the team", he admits it will take time to learn the hooking craft.
"I've only played hooker for different parts of my career, mainly in the rep teams when I've come off the bench," he said.
"So I think there are certainly things I've got to learn if that's the position I'm going to play over the next few years.
"I guess that's up to the coach and where he sees my best fit being in the team."
Gidley said he had tailored his training program to cater.
"I think any time you get to play a long time in one position, you get to know that position a bit better and any extras you do after training, you train for that specialised position," he said.
"Whether I'm playing halfback or when I've played at fullback, all your extras revolve around what you do for the team or the finer skills of that position.
"If I know I'm going to be playing hooker, I'll obviously get in and do the things I need to work on."
Former Knights coach Michael Hagan, under whom Gidley made his debut in 2001, had no doubt the multi-talented matchwinner would handle the transition.
"It might take him a bit of time to come to grips with the extra workload and fatigue, but he's certainly got the skill set to do it," Hagan said yesterday.
"Physically he's fit enough to cope with the defensive stuff. And when he's played that role in the past for NSW, coming off the bench, he's been one their most dangerous players despite getting limited time.
"I guess Kurt's a victim of his own versatility, but he always puts the team first.
"And at the end of the day you just need him out there around the ball."
For Gidley, a change is as good as a holiday.
"As long as I'm out on the field and part of it, then I'm happy wherever I am in the team," he said.
"If that's hooker for when Bedsy moves on, then I'm comfortable with that.
"My job is to do the best job I can wherever Wayne has me in the team, and it's been hooker the past few weeks.
"I've enjoyed it."

A sports journalist since 1986 at the Newcastle Herald and Canberra Times (four years), Robert has covered 16 seasons of NRL-level rugby league, three rugby league tours of England, Test matches, Origins, grand finals, international and Sheffield Shield cricket, Wimbledon, A-League soccer and all manner of sport at grassroots level. His stories appear across the Fairfax Media network.
Morning & Afternoon Newsletter
Delivered Mon–Fri.