Calves blood saga was a 'warning' for Manly
THE former co-owner of the company which supplies Manly with supplements claims the club could have avoided the scrutiny it is now under if it heeded his warnings about controversial sports science practices five years ago.
When Fairfax Media revealed in 2008 that the Sea Eagles, under the guidance of Stephen Dank, were using Actovegin - a product manufactured from the blood of calves - it rang alarm bells for the club's long-term sponsor Body Science (BSc).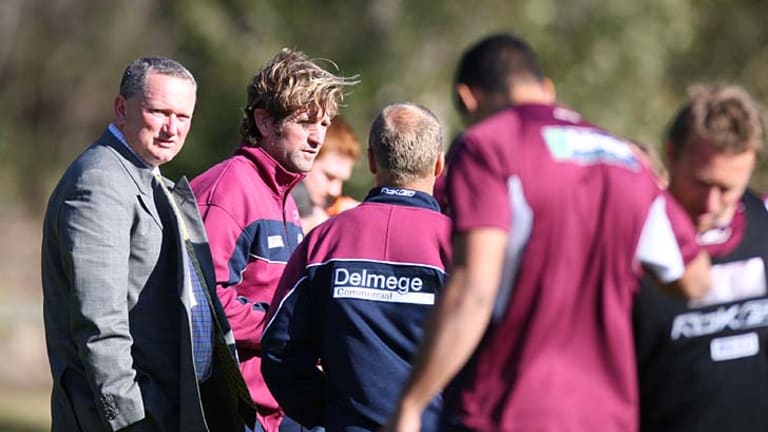 Former BSc co-owner and director James Grasso raised concerns at the time, fearing it put both the company and the club in a ''precarious'' position. His fears have been realised, with the Sea Eagles one of the NRL clubs raided by Deloitte in the wake of the Australian Crime Commission's report into the integrity of Australian sport.
Five years on - and now as the managing director of Vitamin King - Grasso believes Manly's situation would have been avoided if his concerns were heeded.
''Definitely, if they took the warning back in the calves blood episode, this wouldn't be happening,'' Grasso said on Saturday. ''Because the people involved in that episode wouldn't be in the industry any more. With clubs appointing a nutritional supplement sponsor and going out in public and saying 'this is what we're using' and then having people like Steve Dank on board doing things that we weren't being told about, my argument was that it exposed our business.
''If something went wrong, they could say it was the supplement company,'' Grasso said.
''I was pretty furious at the time because at Body Science we put a lot of money into different teams - and they still do - but we made a name of doing the right thing and made sure the supplements were clean and not a risk for athletes.
''And then you've got sports scientists and doctors doing things in the background, it just exposes our company as a sponsor. We, by association, get dragged into any negativity that happens in the industry.''
Manly were on the cutting edge of sports science throughout Dank's tenure, from 2006 to 2010.
Initiatives included the introduction of DNA testing, GPS performance tracking and statistical analysis. However, practices such as the injection of Actovegin into players proved controversial.
''I'm against anything that is unproven or authorised for human use,'' Grasso said. ''If they need to keep it quiet, they shouldn't be doing it. Simple as that.''
Grasso stressed that Vitamin King does not sell peptides or other controversial unapproved supplements. However, he was aware that many of his competitors do and is convinced that some rugby league players go outside of their clubs to obtain them.
''Some of these clubs who say they have no issues, you'll find that some of the players have been going out and buying these things individually,'' he said. ''There could be some issues where the clubs don't know. Players will do what their mates say is a good thing unless they have strong instruction from the club.''
BSc founder and current director, Greg Young, said the company continues to sponsor Manly and provides only safe and test supplements to all its clients.
Morning & Afternoon Newsletter
Delivered Mon–Fri.