For Canberra Raiders skipper Terry Campese, this time it was ''personal''.
Criticised for not running the football in the wet, Campese responded like class players do with a fine display in horrid conditions against Parramatta on Saturday.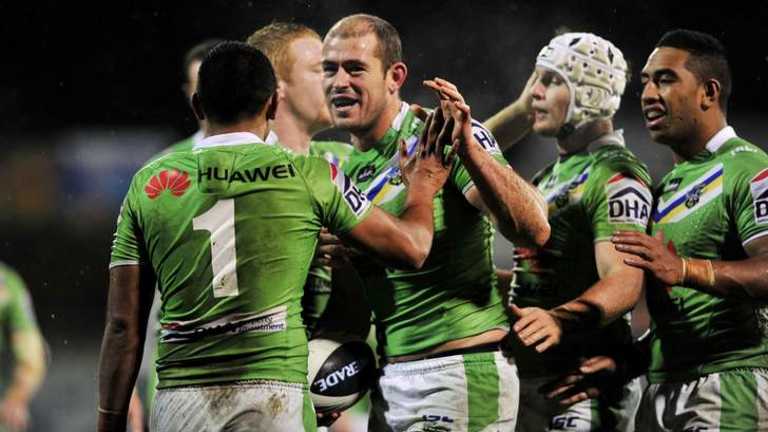 It was a bitterly cold Canberra night, but his peformance in the 14-0 win would have warmed the hearts of the 7000 brave souls in the stands.
If the Raiders want to make an impact in September, they needs their key playmaker fit and firing.
He proved his comback from major knee surgery is on track by setting up both tries, with a focus on attacking the line.
The 28-year-old ran just once for four metres in recent wet-weather losses to the Tigers and Souths.
Against the Eels he registered five runs, and also made 24 tackles without a miss in arguably his best effort of the year.
''I made it a bit personal tonight. I've struggled in the wet this year not running the ball,'' he said.
''We hadn't got a victory in the wet, coming off the back of my game.
''I just wanted to do whatever I could to get the boys in the right position. I thought my first half was pretty good.
''The criticism doesn't bother me, you get that each and every week in this game.
''It was just personal, wanting to do the job for the team.''
I just wanted to do whatever I could to get the boys in the right position. I thought my first half was pretty good

Raiders captain Terry Campese
Campese's kicking game was outstanding in the opening half hour in particular, helping Canberra ground the last-placed Eels into submission.
Last week's bye clearly came at the right time for the Raiders' linchpin.
Raiders coach David Furner hopes he can keep the pedal on the floor as Canberra attempts to cement back-to-back finals berths for the first time since 2004.
''In those conditions his kicking game was excellent, we got down the other end and near the try line he was able to put those little kicks through,'' Furner said.
''They were pretty handy and he kept turning up defensively as well, making doubles and triples. That's the way to lead as a skipper.''
Campese is now in the final stage of a comeback carefully mapped out by the Raiders.
He played two games off the bench after returning against the Warriors in round six, and has now patched up his defence.
''I know the last time we were at home he copped some criticism, but it's always been a plan there,'' Furner said.
''He came off the bench, then we wanted him to focus heavily on defence and that his running game would come.
''Tonight [against Parramatta] he was good, he was dangerous.''
Jon Tuxworth is a sports reporter at The Canberra Times.