Injured Raiders skipper Terry Campese has backed replacement Sam Williams to seize his NRL opportunity, comparing it to his own breakout season in 2008 when Campese rose from Canberra's club ranks to make himself an Australian representative.
Just days after reconstructive surgery on his knee, Campese has shown confidence in 21-year-old Williams by telling him he's ready to step up to the responsibility of leading Canberra to the NRL finals.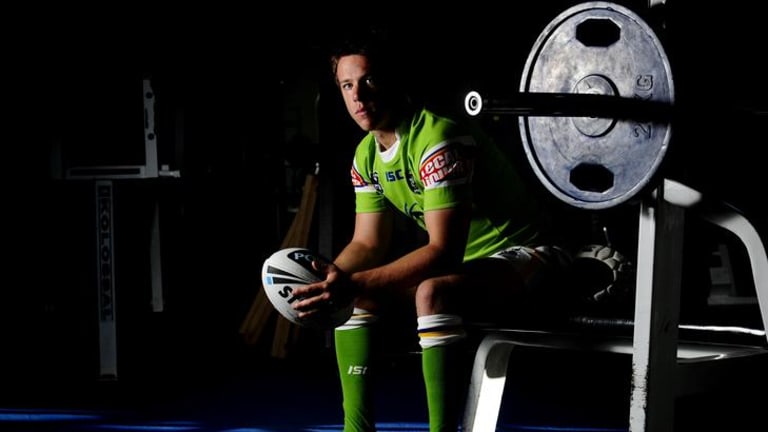 Campese has this week spoken to Williams about his own experience of 2008, when then-halves partner Todd Carney was stood down by the Raiders for the final seven games of the season for disciplinary breaches.
Instead of breaking Canberra's back, it was the trigger for a previously-inconsistent Campese to take control of the Raiders.
Campese finished that season as the most dominant play-maker in the NRL, leading Canberra's late-season charge into the finals and earning himself a World Cup debut.
Williams, Canberra's rookie of the year in 2011, will be thrust back into the Raiders halves with Josh McCrone next weekend – coincidentally against Carney and the Cronulla Sharks.
"I had a quick chat to Campo after the surgery, he just said it was a good opportunity," Williams said. "He mentioned how he got his opportunity [in 2008] when Toddy Carney got sacked and he said it's about doing the best you can while you've got the chance.
"It's interesting the way things work out. Campo spent a bit of time in and out of the side and when he got his opportunity [in 2008] he took it with both hands. That gives you a bit of confidence knowing that someone like him was in a similar situation."
Williams, then 19, was fast-tracked because of injuries to Matt Orford and Campese last year and made his NRL debut – also against the Sharks – in the opening round.
Williams now admits he was "star-struck" at times in his rookie season. But after 18 NRL games last year and biding his time in the NSW Cup this season with feeder-club Mounties, Williams declared his time was now.
"You never want to get an opportunity this way, you want to get picked on form," Williams said.
"But the way things have turned out, this is an opportunity I've got to take.
"If I can take the Raiders into the finals and have a successful year then it starts putting a bit more pressure on the coaching staff to pick me permanently.
"Last year's opportunity came about the same sort of way and I was just happy to be part of the team ... this year I want to make a bit more of a mark.
"I feel a lot stronger and more comfortable in my role .th.th. I've got a bit more belief in my own game.
"It looks like I'm going to get first crack at it [in the halves], so it's mine to lose. If I'm given the opportunity, we're winning and I'm playing well then there's no reason why I shouldn't stay there. So it's all on my shoulders now to make sure I take that opportunity."
The Cooma junior had been in no rush to elevate his NRL career, contracted to the Raiders until the end of next season and happy to serve an apprenticeship under Campese and McCrone.
But having shadowed Campese for the past two matches, Williams declared he's "ready to go".
"I don't need to be told that it's time, the whole team's got to go to another level now," Williams said.
"There's no doubt in the world, the player roster we've got and the depth, there's no reason why we can't be successful and go into the finals. That's our aim and anything less than that we'll be disappointed with."
Williams expects to be targeted in defence, as he was last year, and said tackling technique had been his biggest focus in the pre-season.
"I'm never going to be the biggest bloke in the NRL so I've got to make sure my technique and things are right," Williams said. "[Assistant Raiders coach] Justin Morgan has come into the coaching group this year and I've spoken to him about different defensive techniques and bringing blokes to the ground. If the technique's right, size shouldn't matter."
Morning & Afternoon Newsletter
Delivered Mon–Fri.