Canberra Raiders five-eighth Blake Austin has ripped into rumours of a Raiders rift and has pledged his commitment to the NRL club.
But the Green Machine playmaker added it was hard to talk about extending contracts when he takes their losing streak personally.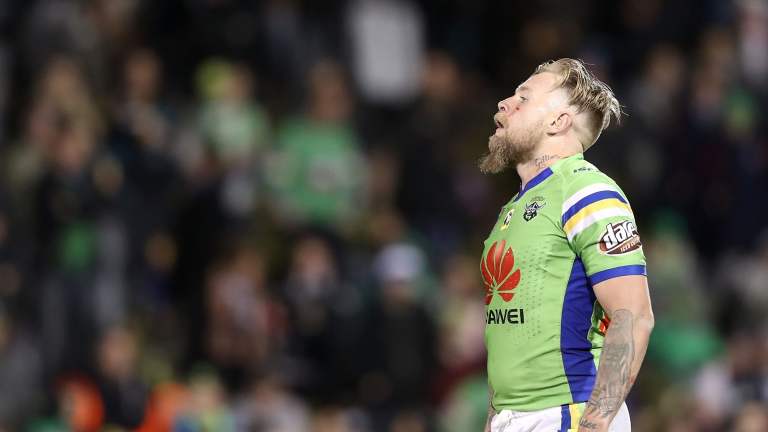 The importance of the Raiders' clash against St George Illawarra at Canberra Stadium on Friday night isn't lost on Austin, and he said the squad had been working flat out to try and turn their season around before it's too late.
They've lost their last four games and sit three wins behind the seventh-placed Dragons, but this game gives them a chance to make up ground on one of their main rivals for the top eight.
Rumours of a rift emerged after it appeared Canberra centre Joey Leilua voiced his annoyance at Austin during the loss to the Brisbane Broncos.
It came after Austin had opted to turn back inside rather than pass to either Leilua or winger Jordan Rapana, who looked certain to score, bombing a try in the process - although a four-pointer did come two plays later with Leilua barging over in the corner.
Austin dismissed talk of a rift and said what was said in the heat of the moment was far different to what was said off the field.
"That was a moment of frustration from Joey. It came off the back of me holding onto a pass that some believe I should've passed," he said.
"For people to suggest that in a moment in a footy match like that, that I'd hang on to the ball because of who's outside me is ridiculous.
"In the heat of the battle he's entitled to his opinion and the way he responds in the match is probably different to how he'd respond after.
"That's something when the team's struggling it's easy to talk about. There's nothing there, no [rift]."
Fairfax Media revealed last week the Raiders and Austin had begun talks to extend the running five-eighth's time in Canberra.
He's currently contracted until the end of 2018, but discussions have begun to lock him in beyond that.
Austin didn't feel comfortable talking about contracts when the team was performing below par.
"Yeah I really enjoy my time here in Canberra and that's something [my contract] that's getting worked through," he said.
"It's hard to talk about too much at tough times like this - we just want to focus on winning footy games for the club.
"Our sole focus is making the fans happier and winning a few more games."
He's felt the losses keenly, as the halves pairing of Austin and halfback Aidan Sezer have come under fire for their game management this season.
While Austin said the responsibility did fall on the halves, there were other factors they were working on to help turn their season around.
Errors at crucial moments have been a problem, especially given they've lost a number of close games.
He said they needed to "strip things back" so they could play a more controlled brand of football.
While the Raiders might be struggling for wins, they're still one of the most potent attacks in the NRL.
He said they were a confident group of players, but that could be their "Achilles heel" on occasions and they needed to improve their defence to back up their attacking brand.
"That's one area that's been highlighted lately and as halves that's what we're paid to do and that's our role in the team," Austin said.
"There are certainly other aspects that contribute to that and make our job easier and as a team we need to be switched on.
"I certainly haven't been 100 per cent happy with the way I'm playing and I'm hoping for my form to pick up leading into this week."
NRL ROUND 19
Friday: Canberra Raiders v St George Illawarra Dragons at Canberra Stadium, 7.50pm. Tickets available from Ticketek.
Raiders squad: 1. Jack Wighton, 2. Nick Cotric, 3. Jarrod Croker (C), 4. Joey Leilua, 5. Jordan Rapana, 6. Blake Austin, 7. Aidan Sezer, 8. Junior Paulo, 9. Josh Hodgson, 10. Shannon Boyd, 11. Josh Papalii, 12. Elliott Whitehead, 13. Sia Soliola. Interchange: 14. Kurt Baptiste, 15. Luke Bateman, 16. Dave Taylor, 17. Joe Tapine. Reserves: 18. Michael Oldfield, 19. Erin Clark, 20. Clay Priest, 21. Royce Hunt.
Dragons squad: 1. Jason Nightingale, 2. Nene Macdonald, 3. Taane Milne, 4. Timoteo Lafai, 5. Kurt Mann, 6. Gareth Widdop (c), 7. Joshua McCrone, 8. Russell Packer, 9. Cameron McInnes, 10. Leeson Ah Mau, 11. Tariq Sims, 12. Joel Thompson, 13. Jack De Belin. Interchange: 14. Jacob Host, 15. Blake Lawrie, 16. Hame Sele, 17. Matthew Dufty. Reserves: 18. Jacob Marketo, 19. Joshua Dugan, 20. Luciano Leilua, 21. Paul Vaughan, 22. Will Matthews.
David Polkinghorne covers the Canberra Raiders, local rugby league, Canberra Cavalry, racing and cycling, along with every other sport, for The Canberra Times.