Canberra Raiders boss Don Furner will meet with the ACT and NSW governments in the next fortnight in his bid to fund the proposed Braddon centre of excellence.
The news comes as the NRL salary cap auditors have cleared the Raiders as being cap compliant after auditing the club last week.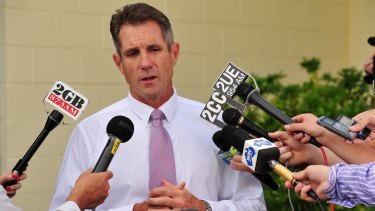 They still have room to sign a couple of players, which could be through the elevation of players on train-and-trial contracts or they could come from other clubs if someone becomes available.
The Raiders want to have the $20 million Northbourne Oval redevelopment completed by the end of the year, but still need to finalise funding for the project.
Furner told Fairfax Media last year the Green Machine needed the new training base to keep up with the rest of the NRL.
NSW deputy premier John Barilaro, who is the member of parliament for Monaro, said his government was committed to helping the Raiders make the centre a reality, even though it's in the ACT.
The NSW government has already committed $50 million to fund seven NRL clubs' CoEs, with Canterbury, Newcastle, South Sydney, the Sydney Roosters, Cronulla, Manly and Wests Tigers all getting a slice of the pie.
"We've still got applications pending for funding and we'd like to keep up with other sporting centres of excellence," Furner said.
"You need to keep pace - ours is nearly 19 years old, we'd love to get it up and running, and we'd love to relocate to Braddon."
The NRL has extended their deadline to apply for a women's licence until February 16 and they're keen for a regional NSW or ACT side in the competition.
But Furner reiterated the Raiders wouldn't be involved in 2018 because they couldn't accommodate a women's team until Braddon was built.
He said they wanted to be involved in the league, but wanted to ensure they did it properly.
That meant separate change rooms for a women's team so they had a permanent base.
"We are definitely interested in a team, but we are not applying for this season though. It doesn't mean we won't do it for '19, but this season we wouldn't be ready," Furner said.
"We still have all our competitions locally - Tarsha Gale Cup team and all those comps that are running in the district we still oversee those.
"It's definitely on our radar, we just need the right facilities and infrastructure, which we hope to get. If we're going to do it, we're going to do it right."
David Polkinghorne covers the Canberra Raiders, local rugby league, Canberra Cavalry, racing and cycling, along with every other sport, for The Canberra Times.