Canberra youngster Brenko Lee has revealed he came perilously close to becoming the latest homesick Queenslander to quit the club before re-signing until the end of 2016.
Struggling mentally to deal with a serious hamstring injury midway through last season, the 18-year-old centre had his bags packed for Brisbane. It took some home truths from his cousin Edrick Lee to convince him to stay.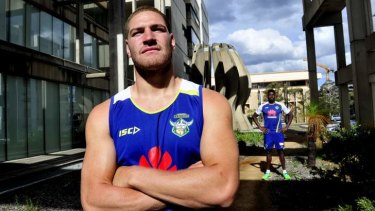 ''I was ready to go home,'' Brenko said on Thursday after his two-year extension was made public.
''I'd booked my flight and was at the airport. [When I called him] Eddy got really angry at me and said, 'If you do this, you're going to regret it in the long run'.
''I need that because I was in tears, I just wanted to go home to mum and dad. Eddy told me, 'I'll stick with you through thick and thin.' When he said that I thought I should be here with him.''
Losing another player to the ''go-home'' factor would have been the last thing Canberra needed, given star rookie Anthony Milford's decision to sign a two-year deal with Brisbane Broncos from 2015.
A fellow Souths Logan junior, Edrick can relate to his younger cousin's dilemma after he also struggled to adjust to Canberra life early on before re-signing until the end of 2017 in October.
Brenko represented the Queensland under-20s last season, and was one of the first youngsters new Canberra coach Ricky Stuart called to confirm he was in his long-term plans. It was the vote of confidence Brenko needed after attracting strong interest from several clubs, most notably a huge offer from New Zealand Warriors.
''I got an offer from New Zealand and I was actually going to go over there because my older cousin [Feleti Mateo] plays there,'' he said.
''But I thought I'd stay here with the Raiders; they gave me an opportunity when I was 12 years old. When I did my hamstring I was very emotional, I just saw a real dark side of me and was always in tears and just wanted to go home. Eddy grabbed me and said, 'Hold on, mate, if you walk out you're going to be walking out of the rest of your life'. That kind of hit me.''
Brenko's weight ballooned to 115 kilograms during his three months out with injury, but he has trimmed back to 94 kilograms after ''training his arse off'' with the top squad over pre-season.
''When Ricky called me, he said he had a lot of belief in me I could play [NRL] if I train hard,'' he said.
''It convinced me to stay. Mal Meninga and some of the greats came here from Souths Logan and Josh [Papalii] played for Australia.''
Edrick is still on restricted training after a broken arm cut short his breakout season this year. He is hopeful it is not too long before he realises the dream of playing in the big time alongside his cousin.
''Before he made the decision we did have a talk and I wasn't too sure where he was heading, but he's done the right thing by the club and the fans,'' Edrick said.
''We've moved in together and at the moment he's training with first grade, and doing well … Hopefully both of us can eventually play first grade together.''
Jon Tuxworth is a sports reporter at The Canberra Times.