He has battled back from three season-ending injuries since 2010 but Canberra Raiders skipper Terry Campese begins the next fight to save his NRL career on Saturday.
Campese has passed a fitness test on his injured abdominal muscle and has fulfilled his promise to make himself available to play NSW Cup and improve his form.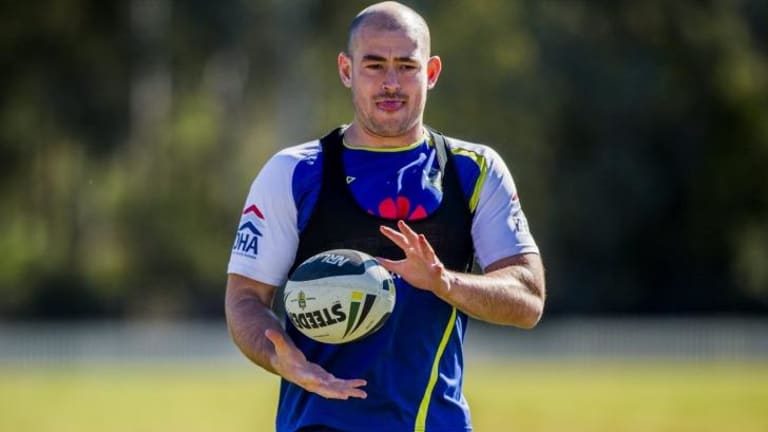 Instead of leading the Raiders out for Sunday's wooden spoon play-off against Cronulla, Campese has been relegated to play for Canberra's Sydney-based feeder team, Mounties, against top-of-the-table Penrith at Leichhardt Oval on Saturday afternoon.
As reported by Fairfax Media on Tuesday, Campese was considered fit for NRL selection this week but was effectively dropped by coach Ricky Stuart.
Campese was overlooked for halves Anthony Milford and Josh McCrone, the Raiders also selecting young halfback Mitch Cornish on the bench as a pointer to the future.
Stuart has banked on a youthful team, with an average age of just 23, to be co-captained by Josh McCrone and Jarrod Croker.
Campese knows he faces a battle to win back an NRL spot, with indications he will be relegated to NSW Cup next season if he decides to play on in 2015.
But Campese has not backed down from that challenge to try and re-establish himself in the Raiders' squad.
"If I have to go to NSW Cup to be a better footballer or to work on things, there's no reason why I can't. I'm not going to chuck a hissy fit and not play football," Campese said last week.
"I'm there for the best interests of the team and players and, if that's what's best for the team, I'll be a team man and fight hard to try and get back in the squad.
"I've dug my way back before, hopefully I can do it again."
Mounties coach Steve Antonelli said Campese's experience would be a massive boost to his side.
"My blokes will feed off the back of him coming up," Antonelli said. "I just want him to come up and enjoy himself more than anything.
"I'm going to put it across to him: 'Come up and enjoy your footy and he won't have so much pressure on him hopefully.' "
Mounties has become a destination for Raiders players on the outer, with off-contract players such as Reece Robinson, Tom Learoyd-Lahrs, Jake Foster and Sami Sauiluma spending a lot of time there this season.
Antonelli said he expected to have nine Raiders players available this weekend.
"They all come back with a good attitude," Antonelli said of the Raiders contingent. "It's all about playing good and getting back into the NRL.
"There's no point putting your head between your legs and sooking. It doesn't help you."
The NSW Cup game between Mounties and Penrith at Leichhardt Oval will be shown live on Fox Sports at 1pm on Saturday.

Chris Wilson is the sports editor at The Canberra Times.
Morning & Afternoon Newsletter
Delivered Mon–Fri.