The NRL has forced Canberra Raiders coach Ricky Stuart to put $10,000 in the 'swear jar', admitting "language" had contributed to his latest fine for criticising refereeing.
The NRL issued the Raiders a breach notice on Wednesday after Stuart described the officiating as ''shit'', ''laughable", "poor" and "not at the standard of first grade" following Sunday's 26-20 loss to Penrith.
Stuart has now been fined $105,000 over the duration of his NRL coaching career, which began in 2002, resulting from nine separate incidents.
But Raiders and Panthers players will escape any penalties, despite a number of far worse obscenities being heard via the referee microphones during the television broadcast of the match.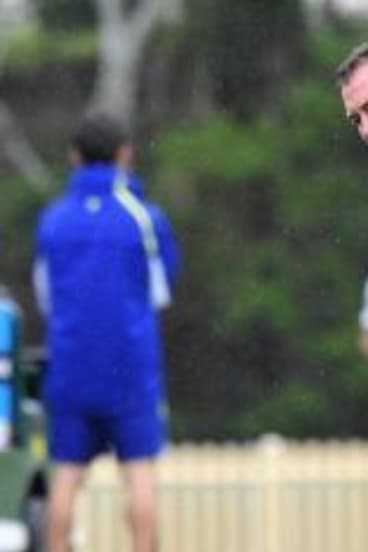 The Raiders are expected to decide overnight whether to fight Stuart's fine, although they have five days to lodge an appeal.
Stuart was heavily critical of the refereeing performances of Gavin Badger and Grant Atkins on Sunday, but it was widely tipped he would escape a fine on this occasion because he'd criticised decisions rather than the integrity of the individual referees.
But a slip of the tongue, where Stuart referred to "shit refereeing" before correcting himself and saying "poor refereeing decisions", appears to have been a big part of his downfall.
NRL head of football Todd Greenberg said the NRL had a duty to protect match officials against excessive criticism or comments which attacked their integrity. He also addressed the foul-language.
"Coaches have every right to comment on the refereeing of a match and to be critical of particular decisions," Mr Greenberg said.
"But those comments should not be excessive or damage the image of the game – and that is what has happened in this case. We have to take a stand against this kind of commentary or it will open the door for coaches to do the same thing week after week. And that is not in the best interests of the game."
Stuart contacted referees boss Tony Archer on Monday.
In particular, Stuart was seething about Raiders back-rower Shaun Fensom being denied a crucial try in the second half.
Badger reversed a penalty against Canberra's David Shillington for reacting to an elbow from Penrith's James Segeyaro, but did not award the try that was scored from the ensuing play.
Stuart was also critical of two penalties against Raiders centre Jarrod Croker, where referees ruled he had taken out Panthers players while contesting bombs.
Despite rival captains Terry Campese and Peter Wallace being heard on the live telecast using "F" and "C" words, no players face sanctions.
A NRL spokesman said it was the audible swearing was a responsibility of the broadcaster, Fox Sports.
The spokesman also said it was a "different environment" to a live press conference, with referees able to immediately penalise players on the field for any language they felt was offensive.

Chris Wilson is the sports editor at The Canberra Times.
Morning & Afternoon Newsletter
Delivered Mon–Fri.