Canberra Raiders coach Ricky Stuart says the jury is still out on what Jack Wighton's best position is after he was picked to play in his sixth different position in just three NRL seasons against Cronulla on Sunday.
Wighton will play fullback for the first time, meaning he has been chosen in every back-line spot bar half-back in 45 NRL games.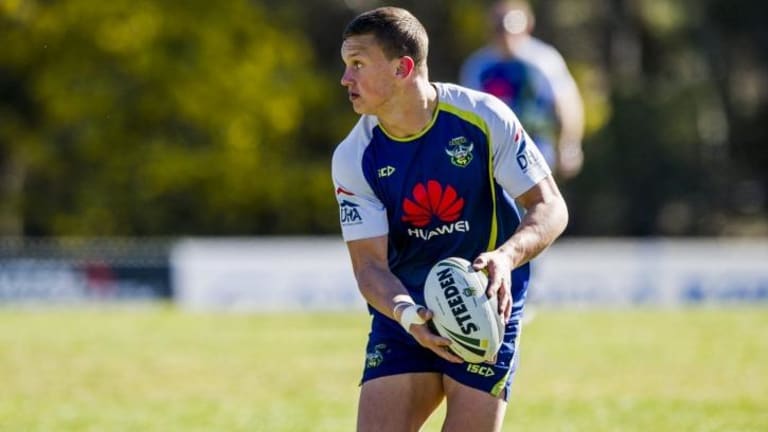 It may not be a stop-gap measure, with Stuart confirming he hasn't ruled out a permanent move to the No. 1 jersey for the 21-year-old.
Despite making his name primarily at centre, Stuart revealed he views fullback or five-eighth, where Wighton began this season, as his best fit long-term.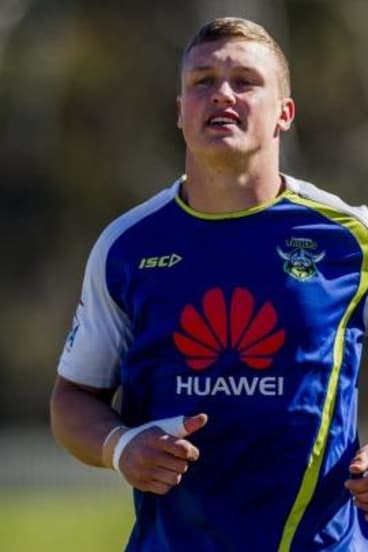 Stuart decided to move Wighton to fullback because he wants one of his most dangerous strike weapons to get his hands on the ball more often.
Wighton gets his chance there after Jordan Rapana, impressive in Canberra's past two matches, was ruled out for the season with a fractured skull.
With first-choice fullback Anthony Milford off to Brisbane next year, Canberra has been linked to big-name custodians including Manly's Brett Stewart and Brisbane's Josh Hoffman.
However, Stuart is hopeful Wighton gives him "food for thought" as he plans for next season.
"He does a great job at centre, but I think Jack as a five-eighth/fullback is his future," Stuart said.
"Your talented footballers have to get their hands on the ball a lot, and he has that ability.
"It [fullback] could be his most valuable position for the team. He's valuable wherever he plays but when he's getting his hands on the ball more, it's a worry for the opposition defence.
"Jordan's done a good job the last couple of weeks, now we can see what Jack can produce at No. 1."
Wighton is a strong runner with good hands and safe under the high ball, and Stuart has been encouraged by what he's seen from him training at fullback in the past week.
But Stuart is not yet prepared to scrap the five-eighth experiment with Wighton, who played the first nine games there this year, with mixed results.
"He's had a trial to see how he'd handle six, I think he did a fair job and still think he could play there," Stuart said.
"It's just a matter of getting food for thought in terms of his positional play at No. 1.
"I'm not expecting him to break all records [against Cronulla], but we're very excited with what we've seen of him there at training.
"He's enjoyed the freedom at fullback. He's playing either side of the field and chimes in when he has to."
Stuart admitted he will eventually need to settle on Wighton's best spot long term so can he flourish there.
Wighton was brought into NSW Origin camp before game two this year for the experience with an eye to the future.
"He's a future rep player Jack, no doubt," the former Blues coach said.
"It's also important for him to settle down and concentrate on one position, and we'll gradually get there."
Raiders two-time premiership fullback Gary Belcher believes Wighton is better equipped to play fullback than five-eighth, but has been impressed by what he saw from Rapana in his two-game cameo.
"I was really impressed with Jordan Rapana, but I think Jack will handle it. He'll be a lot more comfortable there than when he slotted into five-eighth earlier in the year," Belcher said.
"I think Rapana is going to go great at fullback. I feels he's probably the man for that, and Jack plays really well in the centres.
"Who knows what can develop; he [Wighton] may have a couple of outstanding games [at fullback] and you never know."
Belcher said he was encouraged by Rapana's heavy involvement and aggressive running in his first NRL matches since a six-game cameo with Gold Coast in 2008.
"I think they'd feel a little less concerned about the fullback role now, knowing Jordan can handle it," Belcher said.
"I'm not saying if another fullback comes on the radar they shouldn't chase him, but I feel pretty comfortable he'd be able to handle the role next year.
"He was really willing to get involved. I think he made a couple of blues in the first game against Parramatta, but it didn't seem to bother him and he didn't back off."

Jon Tuxworth is a sports reporter at The Canberra Times.
Morning & Afternoon Newsletter
Delivered Mon–Fri.